Quirky former Big Brother star Angel McKenzie is taking a break from her busy television schedule to travel to Spain this week, where she is determined to wrench World Welterweight Champion Mikaela Lauren's coveted WPBF title from her grasp.
Brixton, London based Angel has traveled the World and fought some of the biggest names in the sport, including GBC World Champion Lyndsey Scragg, two time World Champion Conjestina Achieng, former European Champion Daniela David, WIBA World Champion Jessica Balogun (twice), recent World title challenger Olivia Boudouma, five time World Champion Anne Sophie Mathis and in February this year Angel challenged Lucia Morelli for the WIBF World title.
Angel, who is one of the contestants taking part in the all new ITV quiz show Red or Black, today spoke briefly about the upcoming fight, "It's good to fight Mikaela, she's a world class boxer.
She fought Cecelia Braekhus for her three belts, she lost but that was her only loss.
I like fighting the best, I fought two time champion Jessica Balogun just before she won the WIBA title and fought the best pound for pound fighter in the World, five time champion Anne Sophie Mathis.
I fight my best against the best."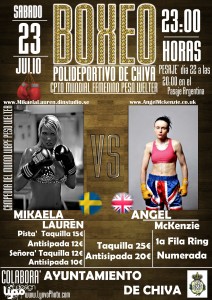 Supporting the headlining Mikaela Lauren versus Angel McKenzie title fight is a name that should be be familiar with British boxing fans, Francisco Javier Gonzalez Torres, better known by the simplified Fran Gonzalez tag – who I'm sure many will recall put on a gritty performance against 'Phat' Pat McAleese in Dagenham back in March – On the 23rd July Fran will be facing Marcos Munoz.
Also featured on the show is a six round Light Welterweight contest between TWBA Light Welterweight Champion Torrevieja's Emiliano Casal and Valencia's Ruben Cupe.
The final professional fight on the card sees big hitting Paterna based Ukrainian Light Welterweight Ivan Grynyuk against fellow Ukrainian Artem Ayvazidi.
Prior to the professional bouts Spanish Olympic boxing squad members Dani Cuevas (Middleweight) and Jhonathan Saavedra (Heavyweight) will open the proceedings against tough opposition from David Cámara de Torrevieja and Russian Oleg Tricolich respectively.
Mikaela Lauren versus Angel McKenzie, for the WPBF World Welterweight title takes place at the Polideportivo Municipal de Chiva, Comunidad Valenciana in Spain on Saturday 23rd July 2011.