Earlier today Dagenham's Kevin Mitchell undertook his final training session at the TRAD TKO Boxing Gym in Canning Town, for his career defining showdown with Manchester's John Murray at the Echo Arena in Liverpool this coming Saturday.
Joining Kevin, and the attending media, for the public workout was Canning Town's most famous son, actor Danny Dyer.
Danny, who has starred in such notable films as Borstal Boy, Mean Machine and The Football Factory amongst many others, took Kevin on the pads during the session, after which he said, "I've done it a little bit before, just fucking about with cage fighters and that, my arsehole is still shaking, that was some strong digs there.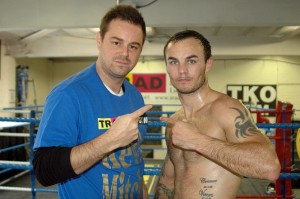 Honestly I've been a fan of Kevin's for a while now. It's just nice to be around him and watch him, you know training and stuff.
I'm just looking forward to Saturday and know for a fact that he's going to do the geezer, there's no two ways about it.
It's the only way, it's Kevin's time now. He had a bit of rick, maybe a kick up the arse, it's probably what he needed and I know for a fact that he's going to get stronger and stronger, so unlucky Murray you've had a good run but it's tat tahavitch."
A smiling Kevin then added, "Danny's a good pad man, held his hands up close and took some good hits." before moving on to talk about his final day of preparations, "I've done really well, weights spot on before training, I've dropped 3 or 4 lbs so will be just the one, maybe two pounds over
Going really well, sharp. I didn't go too mad in the gym, you don't want to go too mad in the gym at this point. Saturday's when I want to be peaking."
After the final session Kevin's coaches, father and son team Jimmy and Mark Tibbs gave their view of his final day's preparation, first Jimmy said "Yeah, all the heavy training's finished. His weight's bang on, perfect. We can't do no more now, everything's done and we're ready." after which Mark added, "He's done everything that's been expected from him and more. His weight is perfect, he's in a hundred and ten percent condition bodily wise, mentally wise. Now he's got to hold it together until the end of this week."
Final word has to go to promoter Francis Warren who said "It's a big, big fight , it's obviously been highly anticipated for the last couple of years.
I've been to both their training camps now and they're both looking really sharp, really on the ball.
It's a hard one to call so unfortunately I'll have to sit on the fence on this one."
Kevin Mitchell versus John Murray, for the WBO Inter-Continental Lightweight title will feature on Ricky Burns' defense of his WBO World Super Featherweight crown against Nicky Cook at the Echo Arena in Liverpool on Saturday 16th July 2011.
Tickets, priced at £50, £80 and £100, are available on 0844 8000 400 or www.echoarena.com