By Gianluca (Rio) Di Caro
At long last the highly anticipated showdown between Dagenham's 'Mighty' Kevin Mitchell and Manchester's John Murray will finally take place this weekend, albeit in Liverpool and not the ExCel in London which was to originally host this career defining fight.
As I am sure most of you are aware the fight was supposed to have taken place this past Saturday, but due to Kevin being unwell for a few days recently the bout was hastily rescheduled and added to the Ricky Burns versus Nicky Cook WBO World Title fight card.
Since my return from America I have spent quite a bit of time with Kevin while he has been training at the TRAD TKO Boxing Gym in Canning Town. I was there throughout his training camp for the ill fated Katsidis fight and of course I've been there for Kevin's  camp for the John Murray bout.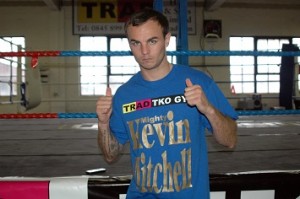 Even though the training and sparring sessions have all been behind closed doors, thanks to Kevin's coaches Jimmy and Mark Tibbs trusting me I have been lucky enough to have been at the TRAD TKO for every single session.
I don't want to give too much away about just how well Kevin's training has gone, but will just say I'm not normally a betting man but I'm seriously thinking of popping down to Paddy Powers and putting a few bob on our Kev.
Anyway before I do say too much about the camp, and get myself in trouble with Jimmy and Mark or gym owner Johnny Eames, it was after his final sparring session that Kevin and I sat down to chat about this weekend's fight.
Rio – Your fight with John Murray has been put back to this weekend, why was that and how has that affected you and your preparation?
Kevin – I had a virus and had to be out of the gym for a couple of days, I didn't want to make any mistakes like I did last time so spoke with Frank (Warren) as I wanted to get the virus out of the way.
A couple of days later the virus was gone and I felt good enough to get back in the gym.
I was straight back in training and sparring, I walked through twelve rounds easy and felt strong and sharp so the fight was back on again for a week later, but in Liverpool.
I feel bad for the other kids that were on the show, especially Billy Joe (Saunders) as he'd been here training alongside me. Same with Billy Morgan and Eddie Hussein, these kids have been down here training every day now they're stuck without a fight. I'm Gutted for them that they didn't get to be on the show.
I'm also gutted for the fans that I'm not fighting in London now. They're a great crowd and I'm sure some will come up to Liverpool.
Rio – It's now an away fight, and not that far from John Murray's home, does that make any difference to you?
Kevin – I've been everywhere, I've been to Italy, Russia, I've been to America. I've been all over the world boxing so Liverpool's not going to be a problem for me.
I know it's an away fight now but I've been up there a few times and know a lot of people up there, the Smith brothers and all the people I met when was at the Murray camp.
I've got a lot of good friends up there and  know that when I step out on the stage there'll be plenty of people there supporting me.
Rio – This is one of the few genuine 50/50 fights to take place this year – the winner of it is likely to be the one that wants it most – so just how much does Kevin Mitchell want it?
Kevin – If I'd won the last fight, like I should have done, this fight would have been looked at as a mismatch and shouldn't be happening as Kevin's beaten Katsidis up, but I got beat and everyone's saying it's a 50/50 fight.
Look at Murray and his last fight. In my eyes it's more like a 90/10 fight in my favour.
He's a good fighter, he's good at what he does domestically. He's fought names, but not at the top of their game, they've all been past it. You know like John Thaxton. Thaxton was a brilliant fighter in his day but  not when John Murray fought him.
He's never been in with a top class fighter, I took Carl Johanneson when he was at his best and beat him, it was a hard fight and he got well beaten up by me, and I was just a young kid.
I'm now a twenty six year old man and this is a big fight for me. I've been training for this now for over two months and I'm not losing this fight.
Rio – You just mentioned training, to me you have looked totally different in camp, to what you did in camp for the Katsidis fight, you look sharper and more focused, everything. But how do you think it's been going?
Kevin – Well you have been here for both camps to be fair. You've seen me train at both camps.
For the Katsidis camp I was useless in here, I was crap, turn up with no head on my shoulders as if I was in a dream land, I was crap. This camp I'm flying, everyone can see it. I'm sparring brilliant against them, everything's gone brilliant.
These camps aren't easy, they're hard, but I enjoy them. I'm just looking forward to getting in there and smash him to bits.
Rio – That's really good to hear, so you feel ready for the showdown with John Murray this weekend.
Kevin – Yeah perfectly, the last fight I wasn't relaxed, I was nervous. When you're prepared for something, you've got a job to do, you've got to be prepared you've not got to worry that something will go wrong.
When you are fully prepared, like I was for the Prescott fight you know that he has got no way out of that ring before the twelve rounds are done, unless I knock him out.
I will tell him (John Murray) the same thing it's a twelve round fight and the only way you'll get out early is when I knock you out.
There's only two ways he'll fight this fight, come out and stick it on me and get beat up or come out and try and lure me into a fight, by boxing and trying to counter punch me. Personally I think he'll come out and box for two or three rounds and try and counter me which suits me as he's going to get beat up and knocked out, he'll be smashed to bits.
I had three rounds in the Katsidis fight before he took me out, for the first two rounds I played with him, if you see his face after, his was battered mine wasn't  and I didn't get hold of him really so you can imagine what I am going to do in twelve hard rounds to John Murray when I'm prepared.
Rio – So the Kevin Mitchell we'll see on Saturday will be more like the one from the Prescott fight?
Kevin – Most certainly I'm just going to box for the whole fight. You're going to see one hundred percent boxing, boxing and boxing. Lots of switching, mix and match it, box and fight, fight and box and some countering. You'll see a world class performance from me on the 16th July.
Rio – For the winner of this fight it looks like it will lead to a full World title shot.  Does that add any additional pressure?
Kevin – No, not at all, I really want that World title shot. I'm going to win this and get that title shot, I can't wait.
Rio – Not that long ago it was said that the winner on Saturday will face Ricky Burns for the title, is that still the case?
Kevin – Well I think that was something to hype it up a bit, Ricky fights at Super Featherweight. Maybe I'm wrong I don't know, when I win this fight maybe he'll step up I don't know.
We've done a few rounds sparring here at the TRAD TKO Gym, he's tough and he's fit. Good spars, the first was a good even spar, the second spar was a bit tight, it was a good hard twelve rounds, which goes to show how fit he was.
He's a brilliant talent, I'm a big fan of Ricky Burns, he's done it the hard way and come out on top.
Rio – OK, so when you win this fight who do you think the opponent is likely to be?
Kevin – Brandon Rios and Frank (Warren) did say another name but I can't remember who it was. I'm not fussed I'm happy and grafting hard.
I'm going to win this fight and then beat Brandon Rios or whoever for the title that's for sure.
Rio – Just want to go off subject for my last question and ask what were your thoughts on the Klitschko-Haye fight?
Kevin – I didn't think David seemed right at all, he strolled a bit. He was outsized, I don't think he was outclassed, it was a size matter.
I'd like to have seen Dave go in there and have a punch up rather than look for the knockout. Dave lost on points so that's the way it is on the way he done things.
You've got to respect the guy he went in there and with a World Class Heavyweight and stayed the twelve rounds.
I'd like to see him come back, drop down a weight. I sent him a message last week and said if ever he wants to call me and have a chat or get away from all the crap. I know what it's like to get beat when everyone is expecting you to win.
I really do hope that he comes back from this as he's a world class fighter.
Rio – Thank you so much for taking the time to talk with me yet again and good luck on Saturday.
Kevin – My pleasure as always.
Kevin Mitchell versus John Murray, for the WBO Inter-Continental Lightweight title will feature on Ricky Burns' defense of his WBO World Super Feathweight crown against Nicky Cook at the Echo Arena in Liverpool on Saturday 16th July 2011.
Tickets, priced at £50, £80 and £100, are available on 0844 8000 400 or www.echoarena.com