Stevenage teenager Terry Holmes is set for his fourth pro outing this coming weekend, when he takes on Earl's Court's Bheki Moyo at the Graham Earl promoted 'Renaissance' event at the Liquid Nightclub in Luton.
Terry, who is just nineteen year of age, has made an impressive start to his professional boxing career, having already notched up three superb wins against very good competition, in Johnny Greaves, Danny Connor and Jason Nesbitt.
What's more Terry didn't just win, he won every single round to secure shutout 40-36 points victories on all three outings to date.
Following a sparring session, under the watchful eyes of Graham Earl, young Terry spoke briefly on the upcoming showdown with Bheki Moyo, "Yeah, I'm looking forward to it. Looking to build my record now so looking for another win.
I want to win well, same old thing you know, stick with my jabs, big rights and my combinations. just going to do the same things as last time, no sense in trying to knock him out, if it comes it comes and if the chance comes that's it.
I'm just going to try and relax, use my jab and pick him off with my combinations.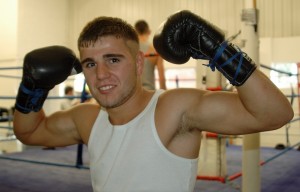 I'm not trying to rush things, but I'm looking to build myself up to get in some kind run going and possible title contention in the next year or so. There's a long way to go, I'm only nineteen so I've got plenty of age to go, there's no rush."
Terry Holmes versus Bheki Moyo will be supporting the highly anticipated rematch between Manny Oshunrinde and Jahmaine Smyle that headlines 'Renaissance
Graham Earl has put together an exciting undercard to support Oshunrinde-Smyle II that features, besides Terry Holmes, Belfast's big banging Joe Hillerby as well as the debuts of local lads James Smith, Danny Mulhern and Tom Little.
Tickets, priced £30, for the Graham Earl Promoted 'Renaissance' event at Liquid Nightclub, Gordon Street, Luton on Sunday July 31st 2011 are available on-line at www.tkoboxoffice.com or in person at Graham Earl's House of Champions Gym, Unit 11 Hitchin Road Industrial Estate, Luton, Bedfordshire, LU2 0DZ