Saturday November 26 was another busy WBF championship fight-night, as new champions were crowned in Poland and France.
Aleksy Kuziemski and Doudou Ngumbu battled it out for the vacant World Light Heavyweight title in Byalistok, while Loic Foure and Stefan Worth clashed for the International Welterweight strap in Saint Maur.
Ngumbu Beats Kuziemski For World Light Heavyweight Crown
Doudou Ngumbu of France is the new World Boxing Federation (WBF) World Light Heavyweight Champion after impressively beating Aleksy Kuziemski for the vacant title in Bialystok, Poland on Saturday night, November 26.
Ngumbu got the unanimous decision by scores of 118-11 and 116-113 twice, and improved his record to 28-3 (11). Kuziemski is now 22-4 (6), and came up short for the third time in world championship fights.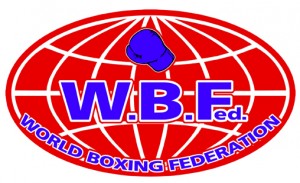 Both contestants entered the bout brimming with confidence, and with an enthusiastic crowd cheering him on Kuziemski was by many considered the favorite to win. But Ngumbu had other plans, and quickly established himself as the quicker and more dynamic of the two.
The Frenchman got off to a good start and never really let Kuziemski into the fight. In round five Ngumbu caught the hometown-hero with a swift combination that had Kuziemski visibly hurt, and only the vast experience of the Pole kept him from suffering a knockdown.
Kuziemski did have his moments, and at times managed to keep Ngumbu at bay with long straight punches. But it was only moments, and the visitor always seemed to come back to take control.
After twelve somewhat one-sided rounds, nobody really had any doubts that Ngumbu deserved the unanimous decision. He showed his world-class qualities, and is a worthy new world champion.
The Fight was promoted by Dariusz Snarski and his Boxing Production, and televised throughout Poland on Canal+.
"Four De France" Clinches International Title
He gave it his all, but when the final bell rang after 10 intense rounds, Germany's Stefan Worth still came up short and left hometown favourite Loic Foure going home the new World Boxing Federation International welterweight champion on Saturday (Nov. 26) at Saint Maur, France.
Luxembourg judges Tonio Tiberi and Dominique Schmit both arrived at identical scores of 96:94, while French judge André Pasquier had his countryman ahead by an incredible 97:93. However, most rounds were hotly contested and often there was little to separate the two warriors. Still, were it not for a huge effort by Foure in the last round – which got his army of fans screaming madly – Worth would have clinched a majority draw.
In fact, it was the man from Cologne, now 12-2-1 (3), who landed the best shot of the fight. A mighty left hook in round seven shook Foure down to his toes and dislodged his mouthpiece. But instead of going for the kill, the 26-year-old Worth inexplicably stepped back to allow referee Noel Monnet to replace the safety device! This piece of sportsmanship might well have cost Stefan the victory.
"I have no complains," Worth said immediately afterwards, "I just hope we can have a rematch. This time I came to his city, so maybe he can come to my place for a return. I think it was a very good action fight." Most definitely it was and Loic Foure bathed in the adoration of his fans, who had filled the 1.500-seater Salle Omnisports to the last place, after winning the first championship of his seven-year professional career at the age of 31, in the process improving his record to 17-8-2 (4).
www.worldboxingfederation.net