LAS VEGAS, NEVADA – (February 9, 2012) Grind 2 Def Entertainment is proud to announce that heavyweight boxer Kendrick "The Apostle" Releford (22-15-2, 10 KOs) will take on Malik Scott (32-0, 11 KOs) on February 18, at the American Bank Center in Corpus Christi, Texas underneath the "Triple Threat" boxing card promoted by Goossen Tutor Promotions featuring Paul Williams, Tavoris Cloud and Chris Arreola. The fight between Kendrick Releford and Malik Scott will be broadcasted as part of a special undercard telecast on Showtime Extreme.
Kendrick Releford said "I fought Malik Scott back in 2006 and he won the fight. That was then and this is now, I'm working with a new team. I have former world champion Curtis Cokes as my trainer and Macke Roberts of Grind 2 Def Entertainment as my worldwide boxing advisor. I'm excited about this good opportunity to be apart of such a highly anticipated boxing event."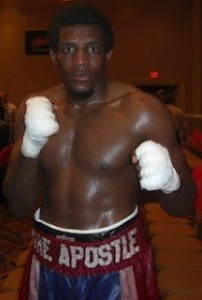 Macke Roberts said "I want to thank Tom Brown and Goossen Tutor Promotions for this opportunity to be involved with this exciting boxing event. Kendrick Releford is a talented fighter who has fought some good fighters in his career. This fight between Kendrick and Malik is a good fight. Going into this fight there are questions about both fighters and what there future is in the sport of boxing. On February 18 in Corpus Christi, Texas the boxing world will find out the answer."
Kendrick Releford said "In this rematch with Malik Scott boxing fans will see a rededicated Kendrick Releford looking to pull off the upset. I turned pro at a young age, I'm a late bloomer in my boxing career and with my new team solidly behind me in 2012 I will show the boxing world the new Kendrick Releford."
In the main event, former two time world champion Paul "The Punisher" Williams (40-2, 27 KOs) will face former world champion Nobohiro Ishida
(24-6 9 KOs) .
To find out more information on Goossen Tutor Promotions visit their website at http://www.goossentutor.com/
To find out more information on Grind 2 Def Entertainment visit their facebook page at http://www.facebook.com/grind2def