Documentary on Canadian light-heavyweight boxing champion Junior "The Real Deal" Moar will be airing on Fight Network (www.fightnetwork.com) starting this month. Moar, a boxer formerly serving time, was able to change his life and make a comeback into boxing in order to win the vacant Canadian title in 2009 against Abdullah Ramadan.
Produced and directed by filmmaker Evan Chan, "Making A Change" was filmed in and around Vancouver, BC, as well as Winnipeg, MB, where Moar grew up. The documentary takes a look at Moar's past, and the decisions he made to turn his life around after being released from prison.
"I would like to say that it was a pretty happy time of my life because my dad was able to see me speak
professionally, and I enjoyed working with the filmmakers because no one has ever flown to Winnipeg to tell my story and meet my family to tell my story on a personal level," said Moar on making the film. "Not everyone has seen that part of my life, and the places that were important to me when I was growing up."
Manny Sobral, a well-known former Canadian boxer who now works for the Vancouver School Board and also promotes
Moar, believes Moar's story should be told. "I feel Junior Moar's story is a very important and interesting view on how gangs really work from a first hand point of view of someone that has been in the thick of it, and now is living a very productive life in society," Sobral said.
Interviews with Moar's family gives a look at the people who helped him to turn his life around. "Hopefully Junior's story provides an idea of what's possible if the proper help and support is given to people coming back into society after going through the prison system," said Chan.
Fight Network is the only TV channel in Canada that is dedicated to complete coverage of combat sports and everything involved in the fight industry. The channel is available nationally in Canada on all major cable, satellite and Telco Systems.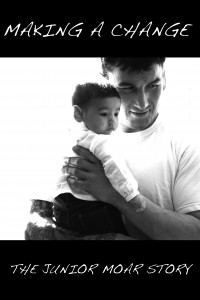 FIGHT NETWORK AIR DATES:
Thursday March 15 10:00 PM PT (PREMIERE)
Friday March 16 2:00 PM PT
Sunday March 18 1:30 PM PT
Saturday March 31 11:30 PM PT