On Saturday night Hove's Ben Murphy successfully defended his Southern Area Lightweight title, against Waltham Abbey's unbeaten Phil 'The Phil Gill Experience' Gill, in emphatic fashion.
Ben, who is trained by Johnny Eames and Barry Smith at the TRAD TKO Boxing Gym in Canning Town, made short work of this his third defense, of the title he won in January 2010, taking just two minutes and thirty five seconds to dispatch this latest challenger.
With early stoppages in both his recent title defenses it is clear to all that Ben has now outgrown the Southern Area title and should rightfully be challenging for the British title, something that is not lost on Ben, as he made clear when he spoke about the fight earlier today, "I didn't know too much about Phil Gill so didn't really know what to expect from him, but after the fight started I more or less knew straight away what to do.
He was very easy to hit for one thing, every punch I hit him with hurt him and when it come to him punching back I sort of realised more that it would be an easy night for me, there was no way he was going to last long.
The sort of stuff Johnny (Eames) and Barry (Smith) have been working on with me in the gym really paid dividends, I was relaxed, it was a perfect fight and it showed everyone what I can do.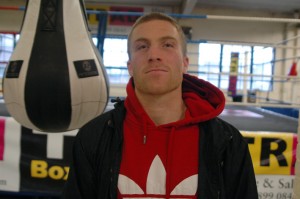 I've learned to relax in the ring thanks to them, I'll go into my next fight knowing I can do that. Now I want the British title.
I want the quickest way I can get the British title. If I can fight for it right away, maybe Derry (Matthews) will give me a voluntary defense, that would be my number one choice.
If not then an eliminator first, I just want a shot at the British title, it doesn't matter which way I get it, I just want the quickest way to get to the British title."