There are few men in the sport of boxing more respected than Barry McGuigan – Rightly so as the former British, European and WBA Featherweight World Champion is a true legend in his own life time.
During his relatively short eight year pro career Barry fought some thirty eight times, nine of which were title fights. Now a successful manager, promoter, boxing writer and pundit Barry's life seems just a busy as it was back in the 1980's, yet the man known in his fighting days as 'The Clones Cyclone' still found the time to talk about the upcoming 3rd Annual TRAD TKO Boxers and Celebrities Charity Football Tournament, in aid of the Indee Rose Trust, that takes place on Sunday the 12th August.
"First of all I think it's a magnanimous and generous of Johnny (TRAD TKO Supremo Johnny Eames) to organise this event every year, especially in the light of he has been suffering from cancer himself for the past year or so, just goes to show his personal determination and generosity.
The Indee Rose tournament, as an event, is simply the biggest coming together of boxers that I know of, it's a brilliant idea. It's a great event, it's very competitive yet it's a great day out for everyone.
The great thing about boxing is you can come up to the guys, they're very humble and always happy to give their time as well, they're very special people.
Even those that have big fights coming up, they may not play but they still turn up to show their support and meet the fans, it's lovely you know.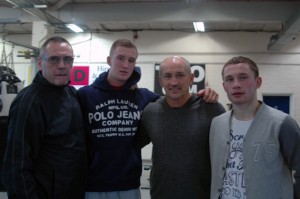 The generosity and humility in boxing always sets it apart from other sports, it's a dangerous sport, a great sport and paradoxically Boxers are probably the most generous people in sport.
Last year the event raised over £20,000 for the Indee Rose Trust, which went to help bring some joy to the kids, who are suffering from brain and spinal tumours, with their wonderful care packages.
I know Johnny and all the boxers that take part will want to do even better this year."
This year's TRAD TKO Boxing Gym organised Boxers and Celebrities Football Tournament, in aid of the Indee Rose Trust, kicks off at 12:00pm at the Concord Rangers FC, Thames Road, Canvey Island, Essex on Sunday 12th August 2012.
Tickets for this very special event, priced: Standard: £10.00 and V.I.P. £20.00, are available on-line from www.tkoboxoffice.com or in person from the TRAD TKO Boxing Gym, Gillian House, Stephenson Street, Canning Town, London E16 4SA
Children's tickets, priced £5.00, will be available on the day.
For further information either call the TRAD TKO Boxing Gym on 020 7474 3199 or see www.indeerosetrust.org – www.tkoboxinggym.com or facebook.com/theindeerosetrust