Season's Greetings to Season's Beatings!
"MAYHEM IN MESA – WAR" PROFESSIONAL BOXING
Friday, January 18 at 7:30pm, Arizona Event Center. Tickets Now on Sale!
Mayhem in Mesa – WAR takes place on Friday, January 18th from the Arizona Event Center in Mesa, Arizona and all 8 pro bouts will be streamed live nationally via GFL.tv. The event is being presented by Hennessy V.S, Raging Babe Events, and Crank It Up Promotions. All bouts live and subject to change. Tickets are on sale at selected Food City Stores and online. Visit www.RagingBabe.com for more information, all ticket outlet locations, and fight updates. The Arizona Event Center is located at 1300 S. Country Club in Mesa. It has recently had major renovations done to the building and is designed for boxing, concerts and other events. It is the largest indoor venue in the East Valley.
"We're proud to bring boxing to Mesa. Being an active part in revitalizing Mesa is super exciting. The Arizona Event Center will be converted into an old-school Rocky Balboa boxing type of venue that old-school and new school boxing fans will appreciate. There's not one bad seat in the building. January 18th will be a powerful night of boxing with great matchups. " –Michelle Rosado, Raging Babe Events
The action packed fight card features local Arizona favorites Christopher "God's Warrior" Lopez, Emilio "Milo-Time" Colon-Garcia, Jose "Apson Boy" Marrufo, Bobby "The Beast" Lopez, Luis "El Chango Loco" Borrego, Arlo "Fist Full of Aces" Arqueta, and Jesus Aguinaga, as well as the much anticipated pro debut of Brandon Riddell. The final fight card will be posted on www.RagingBabe.com.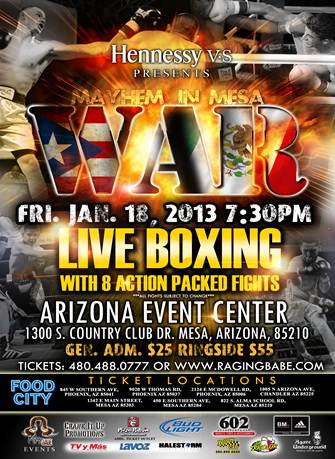 Arizona Event Center
1300 S Country Club Drive
Mesa, AZ 85210
Doors Open at 6pm. First Bout at 7:30pm.
Ticket Prices:
General Admission – $25
Ringside- $55
About Raging Babe Events – Raging Babe Events (fka Face II Face Events) produces, markets, and promotes boxing events in Arizona. In just over a year, Face II Face Events produced four successful shows and brought Arizona over 30 action packed fights. Due to business development, on November 1, 2012, Michelle Rosado (CEO) officially announced the name change from Face II Face Events to Raging Babe Events. The change of name does not affect the existing operation or mission of the company which is to provide new and old school boxing fans the opportunity to see local favorites and rising prospects in Arizona, by continuing to deliver quality boxing events and discovering new talent along the way. Raging Babe Events will continue to pride themselves in maintaining quality, style, and class, not only to the event itself, but to every fighter involved.
LIKE US ON FACEBOOK: http://www.facebook.com/RagingBabeEvents