English Light Middleweight Champion Erick 'The Eagle' Ochieng makes the fourth defense of his crown, against the highly experienced Terry Carruthers from Birmingham, at the Matchroom Sport promoted 'Betfair London's Finest' event, which takes place at Wembley Arena on Saturday, the 9th March.
Ochieng, who has proved beyond doubt that he is fast becoming the dominant force within the domestic Light Middle scene, having dispatched the likes of Andrew Lowe, Ryan Toms and Max Maxwell since beating Nick Quigley to lift the vacant title back in January last year, firmly believes that it's time to move on, to either challenge for the British or Commonwealth crown.
"Yeah, the fight is going to be on the 9th March and it's going to be a good fight, because it's against Terry Carruthers," said the 25 year old from Stoke Newington.
"He's a tough, ugly fighter so I'm gonna come out and look pretty.
Preparation has been going well and we're looking for another win and then on to bigger things, which will be the British or the Commonwealth, that's what we are looking for at the minute.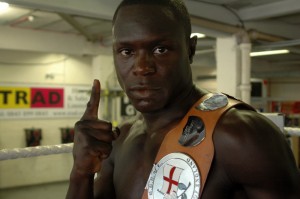 I promise before this year ends you'll be looking at the British or Commonwealth Champion, without doubt.
I want to give a big shout out to all my fans and sponsors, Addison Lee, Glenn Insurance. I want the 'Eagle' crowd to come out in force, because the fight's going to be a great fight.
Not just my fight, but they'll be other great fights at 'Betfair London's Finest' and it's gonna be a great night of action. TRAD TKO's Danny Connor defends his Southern Area against Chris Evangelou, my team mate and another of the TRAD TKO crew, Wadi Camacho takes on China White for the English Cruiserweight title, Darren Barker and Lee Purdy also fighting for titles.
'Eagle', 'Eagle', 'Eagle' oh and I'm gonna be coming in to my track, Erick The Eagle, yep that's what I am going to be entering the ring with."
Tickets, priced £40, £60 and £80, for the Matchroom Sport promoted 'Betfair London's Finest at Wembley Arena on Saturday 9th March, are on sale now at www.tkoboxoffice.com or direct from Erick Ochieng at the TRAD TKO Boxing Gym, Gillian House, Stephenson Street, Canning Town, London E16 4SA.
www.tkoboxinggym.com