By TMZ
Floyd Mayweather says he's no winer … and that's why he's suing a New Orleans wine bar that he claims used him and Justin Bieber to lure Super Bowl fans in for a pre-game blow-out.
According to the federal lawsuit — obtained by TMZ — Mayweather claims The Wine Bistro heavily advertised that Floyd and The Money Team would be hosting the February 1 bash. In case you don't know, The Money Team is a nickname for Floyd's posse, which includes Justin Bieber, Lil' Kim, 50 Cent and Miss Jackson.
Floyd — who in the lawsuit calls himself "the best pound-for-pound fighter in the world and one of the greatest technical fighters of all time" — boasts he makes upwards of $100k for a club appearance.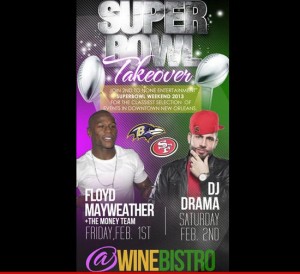 But here's the deal … Floyd says he never agreed to appear at The Wine Bistro — nor did The Money Team — and the bar went crazy advertising on Facebook, YouTube and flyers. Floyd is pissed that the bar profited off his name and worries his fans will be pissed because he was a no-show.
Floyd wants lots of money and wants the bar to stop using his name … STAT!
Article provided by TMZ
Read more: http://www.tmz.com/2013/02/08/floyd-mayweather-sues-wine-bar-bistro-justin-bieber-new-orleans-super-bowl/#ixzz2KK8e80jI
Visit the TMZ Store: http://tmzstore.com