Wilmington, DE—-After four days of blow for blow fighting, Kyrone Davis walked away a winner in the 2013 Adidas National Tournament in Oxnard, California, hosted by the Oxnard Police Athletic Activities League.
On Wednesday June 19th the event started with over 450 boxers from across the country battling it out to get to the finals. Davis fights in the 165 lb division and he was up against over 20 fighters in his weight class. Davis earned his title on Saturday June 23rd. in a unanimous decision against Jamey Swanson of Nevada. In addition Davis also received the "Best Male Boxer" trophy.
"The feeling is as good as I thought it would be" says Davis. Davis credits his success to the support of his family as his vigorous training routine. He trains daily at the William Hicks Anderson Community Center on Wilmington's Westside under Coach Doug Pettiford and with Barry Swanson of Train Hard, Win Big also in Wilmington.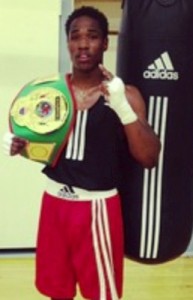 Kyrone Davis is 18 year-old Wilmington, DE eastside resident. He graduated a few weeks ago from Christiana High School. Davis has worked hard at his craft since the age of 8-years-old. The eldest of four children, he most recently competed in the 2012 U.S. Olympic Trials in Colorado Springs, Colorado. He holds the titles of the Pennsylvania State Golden Gloves Championship for the past 2 consecutive years. He placed 2nd at the National Golden Gloves Championship in Salt Lake City Utah this past May, and he won the bronze medal in the USA Boxing Tournament this past April in Spokane, WA, winning him a seat on the USA Boxing Team.