Outstanding Irish amateur star Paul Upton makes his professional debut, on the undercard of TRAD TKO gym mate Ian Bailey's defense of his Southern Area Featherweight title against Dan Naylor, at the Johnny Eames TRAD TKO Events promoted 'Turf War' mega event, at York Hall n Bethnal Green, London, this coming Saturday night.
Paul, who along with his brother Anthony signed with the TRAD TKO squad back in February, had a stellar amateur career, amassed various national and international accolades, including twice being crowned Irish National Champion, as well as Ulster Senior Champion and a Four Nations Silver Medalist.
Young Paul was mightily unlucky not to represent Ireland at the Commonwealth Games, having lost out by just two points to eventual Gold Medalist Paddy Gallagher.
On Saturday Paul will be facing the highly experienced Dee Mitchell, who in his last couple of outings faced the likes of Southern Area Welterweight Champion Bradley Skeete and Southern Area Light Middleweight title challenger Kris Agyei-Dua.
Even so, young Paul appeared totally unfazed by the news, that he will be facing such an experienced battler as Dee Mitchell, when he spoke earlier.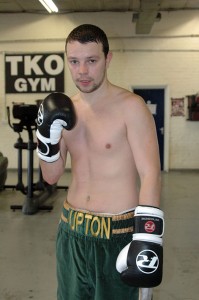 "Looking forward to fighting on Saturday, as I haven't boxed in over a year.
Since I've turned professional I've been itching to get my debut out of the way, got the license now so can't wait to fight.
I've just been told I'll be fighting Dee Mitchell, I don't know much about him but that don't matter, I just want to get out there and fight and he's getting beat anyway.
I've already done all my tickets so will have a good following on the night.
On that I just want to say to the fans, thank you for the support and keep following me as I'm going to make it to the top.
Paul Upton versus Dee Mitchell features on the undercard of the Ian Bailey – Dan Naylor Southern Area Featherweight title clash that headlines the Johnny Eames TRAD TKO Events promoted 'Turf War' at York Hall, Bethnal Green, London on Saturday 27th July 2013.
Tickets, priced £35 (Standard Seated) and £60 (Ringside) are available on-line at www.tkoboxoffice.com or in person from the TRAD TKO Boxing Gym in Canning Town or from any boxer on the event. For further information call 07960 850645 or 07557 641597.
www.tkoboxinggym.com
Twitter: @TradTkoBoxing