By: Coach K
(November 7th) This past weekend taking a ride upstate, New York to avoid the mind boggling election media fiasco I made my way to a book fair at newly renovated the Queensbury Hotel in Glens Falls, New York where I found myself spending the mid day talking boxing withn some avid boxing fans and Queensbury's own Bill Calogero.
The former, promoter, matchmaker, turned boxing historian Calogero, the host of boxing's undisputed champion of boxing talk programming, Talkin Boxing With Billy C TV & Radio Show, was on site advancing the sale of his captivating first book, Tom Molineaux: From Bondage To Baddest Man On The Planet.
A top seller on Amazon, the informative and attention capturing book tells the story of Tom Molineaux. Born a slave on a Virginia plantation during the late 1700's, Molineaux becoming a fighter, fought and won his freedom, battling for a world title as his fame rose to the height of being the very first high-profile world wide sports celebrity. However, because of the color of his skin, not only during his lifetime but unfortunately continues to this day, he has become virtually a forgotten name.
Molineaux is not only an important piece of boxing history he's also a major part of American and African American history. Calogero's book tells the complete story and wants people to read the book and help set the record straight. It's time to give Molineaux the credit he deserves.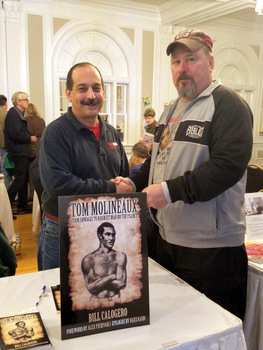 Here's What's Been Said About the Book:
Charley Fitch – Professional Boxing Referee:
Finished reading "Tom Molineaux" today and it is fantastic! Congratulations on writing a truly excellent book covering a person with historical significance that goes well beyond boxing.
What a story. Well written and interesting to read. A treasure of information that I'm going to be purchasing several more copies of as Christmas presents.
I loved the details and how you were able to put Molineaux' achievements in historical context (slavery, American Revolution). This is much more than a boxing book. It's important history from several often neglected aspects.
Plus, book was factual and told the story of a human being overcoming longest of odds to reach highest of highs only to succumb to the lowest of lows. It included the man's warts, the character flaws and failings. That is how life is. I loved the honesty of it.
Thank you for writing "From Bondage to Baddest Man on the Planet" and bringing Tom Molineaux's amazing story to life. Before reading your book I knew nothing about him. Due to the work you have done that has changed.
Don "Bear" Koss: Longtime Member International Boxing Research Organization
World Boxing Hall of Fame Elector, Emeritus Professor of Library and Information Science, Richard J. Daley College Member, Dubois' Company, 3rd New York Regiment, MWTA (A Midwestern group of historical revolutionary war re-enactors)
In his new book, Tom Molineaux, From Bondage to Baddest Man on the Planet, Bill Calogero, presents the story of an early prize ring warrior to a new generation of boxing fans. Molineau's story, hitherto known only to boxing's historical cognoscenti, is a compelling tale hallmarking the meteoric rise and fall whose personality was imbued with human frailty while suffering societal injustice.
Chronicling the life and career of a prize ring pugilist and evaluating it is especially challenging. The difficulties go well beyond the difference in rules between the Prize Ring and the Queensberry eras. The most common tool used in contemporary evaluation is film or tape. YouTube dominates contemporary culture. When no film exists, or when the quality of existing film is poor in quality as in the case of the early 20th century contemporary evaluators tend to denigrate the skills of boxers of an earlier era.
Newspapers and other print sources must be brought to the fore when evaluating earlier fighters. When there is a paucity of these sources the problem is magnified. For the most part, only major fights in the careers of pugilists have been recorded. One can compare the number of recorded fights of Daniel Mendoza with those of his contemporaries. There is a substantial difference in the numbers. Mendoza published his memoires and listed his fights. The difference in number is large enough to allow the inference that at least 60 % of a pugilist's record is lost to history. In the case of Molineaux the problem is even more acute. As Billy C points out, Molineaux was a product of what was euphemistically called the peculiar institution, Slavery, and however much revisionist may white-wash this fact, it won't go away.
Bill C utilizes the existing source material for prize ring history (old and rare books) to overcome these problems. He synthesizes these sources to give us the life of Tom Molineaux presented in fresh and colloquial language. Bill is concerned with presenting the facts of Molineaux's life. This is evidenced by his omission of references to Molineaux and George Washington, because nothing beyond their anecdotal nature could be substantiated. His effort to present the facts of Molineaux's life, is undermined to a degree, by a lack of citation in his text. Academics always find a lack of citations troublesome. I was still able to check source material by cross referencing this book with Billy C's essay "Tom Molineaux: From Slave to American Heavyweight Champion" in Aycock & Scott's The First Black Boxing Champions. The lack of citations could possibly limit the purchasing of this book by libraries to those with specialized sports of Black History specializations but should not hinder the boxing fan from making Tom Molineaux's life a part of their own.
Anthony Owens – Life-long Boxing fan
A MUST READ for not only boxing buff's but American history in general.
Fantastic read, the life of Tom Molineaux is a mixture of not only boxing but American history. Learning the struggles of Molineaux from start to finish and manner in which they were told made it impossible to put down.
As a boxing fan while reading portions in the book leading up to Molineaux's biggest bouts and how his training was progressing left me with that same feeling of anticipation I get when counting down to a modern big time Pay-Per View event as if I had no idea who would prevail.
When the bouts themselves were described I could virtually hear the crowd yelling and sounds of thudding punches. The first bout against Cribb was so detailed in the description at one point I was thinking to myself I hope this doesn't get stopped on cuts!
The way Bill Calogero tells of Molineaux's struggles from being born a slave to gaining freedom, fighting for recognition not only as a prize fighter but as a MAN left me in awe of the type person Tom Molineaux must have been on the inside and fortitude he possessed.
The only thing I could not understand after reading the book was why has no one told his story in full before?
With the current state of modern boxing the informational publication is a must. You can see Coach K's complete review when you go to Amazon to buy your copy.
You can purchase a copy of the book right now at Amazon.com, Barnes and Noble.com and where all good books are sold. You can also get a signed copy of the book by visiting the Book Club section at BillyCBoxing.com.
For Interviews you can contact Bill Calogero directly by email at: Billy@TalkinBoxing.com