We all know Floyd Mayweather Jr. is trolling for attention to keep his name out there when he posted recent videos on his Instagram and social media of himself entering an Octagon barefoot.
There is no way he fights in the UFC under mixed martial arts rules.
He is trying to go back and forth with Conor McGregor, and we all know that McGregor can't wait to get his hands on Floyd in the cage, under mixed martial arts rules it would be very, very bad for Floyd.
It would only be for for the two to rematch under MMA rules, but we know that ain't gonna happen.
Mayweather is the greatest defensive boxer of our era but he is under a limited rule set, no vicious low kicks, no threat of a take down, no submission holds, he just fights under boxing rules with punches as the only weapon.
If he did fight under MMA, he would get tore up so quickly, unless Conor or whoever fought Floyd wanted to really punish him they could prolong the beating just enough, but Floyd would probably tap so quickly once he starts feeling his life is in danger.
Floyd's legs are not conditioned to take leg kicks, one kick and those legs could snap. He has no clue how to fight off on the ground or defend a takedown. In boxing you are saved by the ref when it gets in a clinch, in MMA you get in a clinch you are constantly fighting for your life with the threat of a takedown, elbows, knees, foot stomps, and other weapons.
Remember, Floyd's motto "My health is more important than Wealth," so he would make sure to tap the moment he gets caught in a submission or feels a couple leg kicks. If his opponent really wanted to make him suffer he could ground and pound him, or refuse to let go of the submission and snap his leg or choke him until he falls asleep.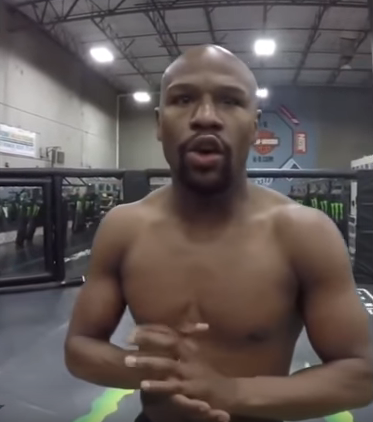 It would not be worth the money or his legacy to get humiliated like that.
The only way I could see Floyd stepping into the cage is for a modified rules bout, basically boxing with UFC gloves on, no low kicks, no grappling, and the casual fan will chew it up and buy it thinking Floyd would be fighting an actual MMA fight.
Even if they fight under the modified rules, it would sell huge, it would probably be the biggest Pay-Per-View of all time because casuals are gullible and would be curious thinking Floyd would fight Conor under mixed martial arts.
The spectacle of Mayweather vs. McGregor sold over 4 million PPV buys, this fight could easily do that or even go as high as 5 million buys.
One thing is for sure, Mayweather is a true businessman and self promoter, they don't call him "MONEY" for nothing and he sure knows how to get people talking about him.