UFC lightweight champion Khabib Nurmagomedov is becoming the most popular fighter in the UFC.
He made headlines for smashing Conor McGregor at UFC 229 and immediately flying out of the cage after submitting the Irish superstar to attack the rest of his team.
Khabib who comes from the Republic of Dagestan went to Russia right after the fight was personally congratulated by Russian President Vladimir Putin and had breakfast with him.
He is currently undefeated in the world of MMA which is a rare and difficult feat in a sport that allows various fight disciplines to win a bout, Khabib following McGregor's lead has now issued a challenge to undefeated boxing star Floyd Mayweather Jr.
It isn't certain if the challenge was just done in a joking manner, or if Khabib was serious but it was posted on the Instagram of DeJuan Blake who works for Floyd Mayweather.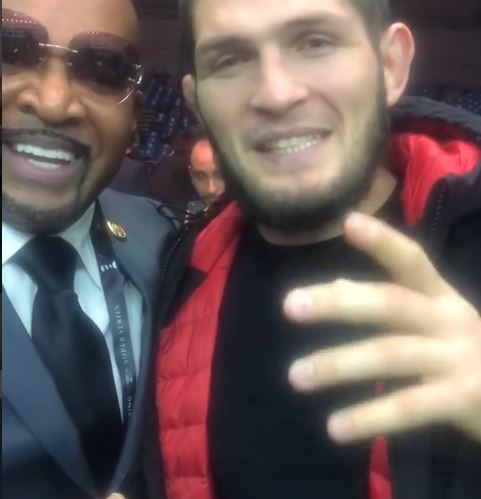 Blake was in Russia at the World Boxing Super Series where his fighter Andrew Tabiti fought and won advancing to the cruiserweight semi-final round.
During the event Blake posted video on his Instagram of Mayweather Promotions CEO Leonard Ellerbe alongside Khabib and in it the UFC Champion says "We have to fight now, 50 and 0 versus 27 and 0 both undefeated." Khabib went on to taunt Floyd with "In the jungle only one king, of course I'm the king because he cannot drop McGregor but I dropped him easily."
If the fight is serious it would pit two undefeated fighters from different combative sports against each other, the Mayweather vs. McGregor crossover event was a huge success doing well over 4 million ppv buys, and Khabib's fight with McGregor at UFC 229 was also a hit with 2.4 million ppv buys breaking the UFC record.
Khabib vs. Mayweather in a boxing match would be another freak show type event and riding off of his current fame it would be a great way to cash out with a massive payday.  Khabib would be set for life with the type of money that could be made and even if he loses he can always go back to MMA and defend his title and undefeated record.
Mayweather posted an Instagram video with Manny Pacquiao on the day of Canelo vs. GGG 2 saying they will fight a rematch in December, but later rumors were swirling around that Floyd wanted a tune up in Tokyo, Japan before fighting Pacquiao.
In a report Floyd said he could fight a boxer, MMA fighter or even a kickboxer in his tune up, so maybe a huge boxing ppv with Khabib isn't out of the question?