From working on night club doors at the small age of 15 to becoming the WBC Cruiserweight Champion, Tony Bellew's life has been far from easy. On Saturday night Tony Bellew has another chance to shock the world as he faces undefeated Oleksandr Usyk for the undisputed cruiserweight championship of the world. Usyk is coming into this fight off the back of winning the World Boxing Super Series and becoming the first holder of the Ali trophy.
Usyk is no push over. He is a special talent and one of the greatest cruiserweights of all time. Bellew has described Usyk as the greatest cruiserweight since Evander Holyfield who like Usyk was also an undisputed cruiserweight champion.
After an impressive amateur career Usyk went onto win the cruiserweight world championship in just his 10th fight as a professional. A very tough fight for Bellew but the Evertonian is confident of slaying the 'monster.'
The career of Tony Bellew has been full of twists and turns. Strangely throughout his career Bellew has improved as a fighter while many other fighters usually start to slow down as their career goes on.
Since making his pro debut in 2007 Bellew has won the Commonwealth, British and World titles. In 2011 Bellew first fought for a world title against Welshman Nathan Cleverly however he was beaten on points in a fight that was very close.
In 2013 Bellew fought for another world title but ran into a world class operator Adonis Stevenson and the fight was stopped in the 6th round. The Canadian Adonis has expressed interest in a rematch if Bellew can pick up the cruiserweight world titles from Usyk. Bellew then moved up to cruiserweight permanently and beat Nathan Cleverly in a rematch.
After the Cleverly fight Bellew turned actor and starred in the movie Creed. Bellew has played the bad guy for a lot of his career so acting as the mean 'Pretty' Ricky Conlan was a natural role for the self-proclaimed Fat Scouser. For Bellew to be in a movie of this magnitude did massive things for his career and it helped to take his fame to another level.
On the 29th May 2016, bank holiday weekend Tony Bellew finally got his dream night. The real life Rocky story came true as Bellew knocked out one of the most feared cruiserweights at that time Illunga Makabu in the third round to finally become world champion and picked up the WBC World Cruiserweight Championship. He had to get off the canvas however as Makabu knocked him down in round 1 and broke Tony's nose. Bellew has described this as his greatest night and winning the world title at his beloved Goodison Park would not be matched. For a person coming there from a young age as a season ticket holder he could not have dreamt that there is where he would win a world title. He made one defense of the world title against BJ Flores and then went on to call out the former undisputed cruiserweight champion David Haye.
The legacy had been secured and now for Bellew it was about financially securing the future of his family. This meant having to fight one of the most feared punches in boxing and moving up to heavyweight to take on David Haye.
Haye came into the fight off the back of 2 knockout wins against men who were not quite at the top level of the sport. The build up to this fight was intense and both men made clear their dislike for one another.
Haye vowed to put Bellew in hospital and the bookies didn't give Bellew a chance. He was written off by everybody but he proved them all wrong. After winning a couple of the early rounds Haye picked up an Achilles injury in the 6th round which led to Bellew proving everyone wrong and knocking out David Haye.
In the build-up Bellew predicted that Haye's body would break down and he was correct. He knocked out Haye in the 11 round and this led to a rematch as Haye believed that the injury was the reason he didn't win. However the rematch was more brutal and quicker and Bellew knocked out Haye in round 5 after knocking him down in round 3.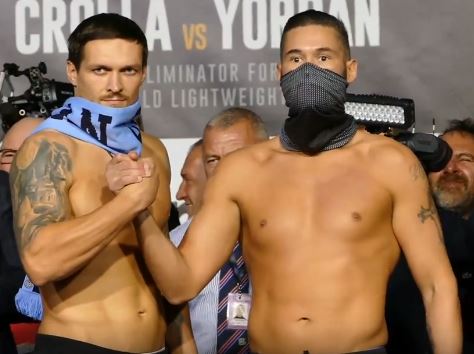 Meanwhile in the division that Bellew used to be in, the world boxing super series was going on. After the final Usyk called out Tony Bellew and this led to this mouth-watering clash that is taking place on Saturday night on Sky Sports Box Office/DAZN.
What a story it would be if Bellew could finish his career as undisputed cruiserweight champion but he is up against the odds. However if there is one man who is able to find a way to upset the odds that is Tony Bellew the real life Rocky.