'Simply the Best' Chris Eubank was one of the great characters of British sport in the 1990s, a polarising figure who divided opinion and changed the game in many ways.
Here he points out why he was as successful as he was and why he never reached the heights of 'Pound for Pound' elite in the US. As well as a Khan-Brook prediction of sorts and his bout with Brit Henry Wharton.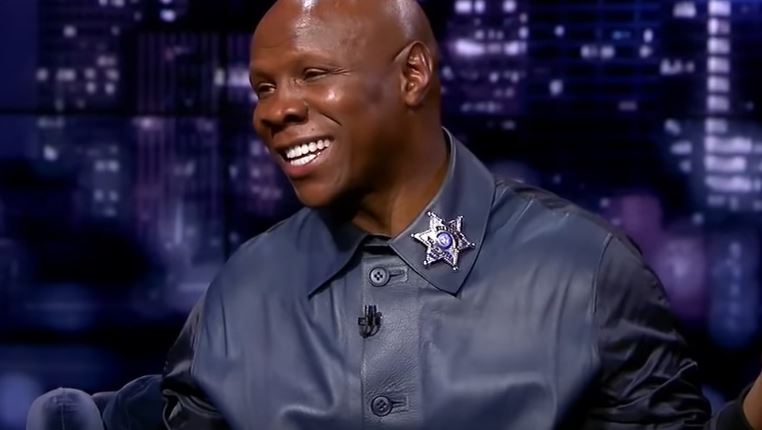 On putting in the work:
You get out what you put in. What I put in was seven days a week, three times a day from 1982. I have read Roy Jones Jr would start his roadwork for his next fight just hours after his previous fight on that very night.
It's no coincidence that by 1995 we were the last two standing in boxing without defeat. That's how the Universe works.
Every Christmas Day, Birthday, Thanksgiving, New Years – it didn't matter. I was in that gym. And it wasn't David Lloyd or Disneyland; I was walking past used needles on the concrete steps, and placing buckets to catch water from the holes in the roof.
On his number one fight idol:
My favourite fighter was one you would not have heard of. His name was Dennis Cruz, a 130lb southpaw. He was like water in there. I tried to mimic him in sparring, but in competition I would seize up and the tap would turn off and on if you like which was most effective for me to keep winning. 
I simply wasn't as good as Dennis Cruz, as much as I wanted to be. In the gym, nobody was, really.
On preparing for war:
There were gym fighters like Johnny Walker Banks, a 154lber, who got the best of Marvin Hagler in their gym fights. He would beat the crap out of me as a teenager. That's how I got so extremely good. You learn by taking beatings in the gym.
The trenches became like home to me. So that gives you an immense confidence knowing you can be taken that far and feel comfortable with being uncomfortable.
Certainly Nigel Benn in 1990 took me there. Along with Tyson he was the most explosive figher in the world.
Michael Watson in the second fight fought so far beyond himself that he took me beyond and into realm of life or death on a knife edge or tight rope, which I've never seen in combat before or since; a moment as such.
To climb up and out of the trenches and walk into the firing line is the ultimate if you prevail. Nothing can top that, having been comprehensively out-gunned for nearly 11 rounds.
On fighting anybody:
I didn't duck anybody, and certainly not Roy Jones as that's a fight that would've propelled me to the top of the so called pound for pound list had I won. Before I made £10million with Sky though, Roy Jones was just a contender and already the best pound for pound fighter before it was actually confirmed, so what sense would that of made?
Unless an opponent was made mandatory challenger I had no obligation to go out of my way and fight a certain opponent. When there were top Americans in the number one contender position for my title, I agreed to take the fights only to find they pulled out. That's a duck on their part. I think it was Lyle or Little.
A certain fighter came along at the end of my reign and notoriously ducked another fighter, something I would never have done. I even stepped in and took the beating for him because I wanted respect. It was never really about money, not deep down. I wanted the respect. 
That's why I stepped up two weights to face Carl Thompson, who later stopped heavyweight David Haye. David of course went on to blow away many heavyweights and face giants without going over. I even had bad knees by this time so couldn't move like I wanted to. I didn't bother clinching. I wanted respect.
On Kell Brook v Amir Khan: 
It may come down to who taps first. They both want to redeem themselves, so neither will want to tap. Another factor is who can remain objective. If you hate your opponent, you're trying to hurt him and being subjective. You're not trying to score points.
So my prediction is this: I don't know because I'm not in either man's psyche
On his special performance v Brit Henry Wharton:
Henry Wharton very nearly broke my will. And, in fact, I had just about had enough of boxing after that fight.
That was my sixth world title defense in 10 months – five of those six had gone 12 rounds, three of them had been overseas, three of them southpaws, two of them in the most hostile of lions dens, one of them 7000feet above sea level – and Henry Wharton took every punch in the book and all sorts of combinations thrown at breakneck speed; he just kept asking for more. That kind of hunger, for a purse a fraction of mine, killed a part of my spirit.
It's hard to perform at world-class elite level every six or seven weeks – facing awkward southpaws or in awkward environments – so that lack of consistency and lack of USA exposure when I jumped ship to Sky is why I wasn't near the top of the pound for pound listings which is what my ability probably warranted, as shown for 12 rounds straight against Mr Wharton.
Another factor in that respect is Nigel Benn's constant bobbing and weaving – like out of the blue – in our second fight being so super effective; as it was against Gerald McClellan. I wasn't prepared for that because he hadn't shown that before. I had prepared to put on a masterclass against the usual Benn.