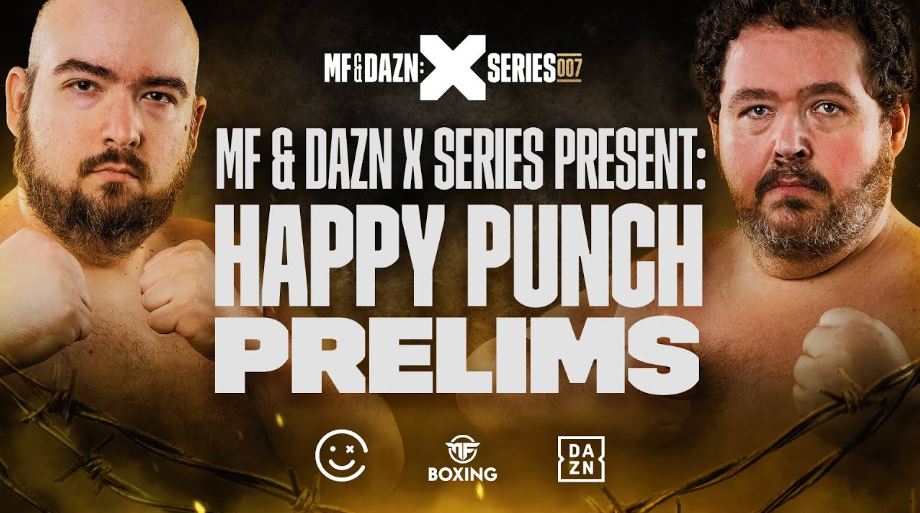 Misfits and DAZN X series 007: KSI vs. Joe Fournier returns to the Wembley Arena in London, England on Saturday and crossover boxing event is stacked from top to bottom with popular social media stars going head to head.
A Free Happy Punch promotions Live Stream preliminary fight card will air before the main card on DAZN.
Before the main card which features KSI vs. Joe Fournier in the cruiserweight headliner, Deji vs. Swarmz, and Salt Papi and Anthony Taylor bouts, Happy Punch Promotions stream a Free fight card for fans featuring a four fight card.
The main event of the Happy Punch prelims has the heaviest bout in YouTube boxing history when WingsOfRedemption weighing in at 404 pounds takes on Boogie2988 who weighed in at 392 pounds for a combined total of 796 pounds.
Corn and Unbaer will fight in a super lightweight bout, Luis Nestor and Archie King will trade blows in a heavyweight contest and Zuckles takes on a mystery opponent in the opening light heavyweight bout.
MF and DAZN boxing series is a popular crossover boxing promotions where influencers, celebs, sports stars, and content creators have the chance to fight in the boxing ring and entertain fans. Beefs can be settled in the boxing ring and many of the fights end up being highly exciting and stars like Salt Papi are born from this platform.
Misfits & DAZN X Series 007 fight card
Cruiserweight – KSI vs. Joe Fournier
Light Heavyweight – Deji Olatunji vs. Swarmz
Cruiserweight – Salt Papi vs. Anthony Taylor
Cruiserweight – ViruZz vs. DK Money
Women's Super Bantamweight – Tennessee Thresh vs. Paigey Cakey
Women's Super Bantamweight – Little Bellsy vs. Lil Kymchii
Happy Punch Prelims Card
Heavyweight – WingsOfRedemption vs. Boogie2988
Super Lightweight – Corn vs. Unbaer
Heavyweight – Luis Nestor vs. Archie King
Light heavyweight – Zuckles vs. Mystery Opponent
Watch the Misfits and DAZN X series 007 Happy Punch Prelims Live Stream on Saturday, May 13, 2023 at 12:15 PM ET / 9:15 AM PT on Misfits Boxing YouTube Channel.