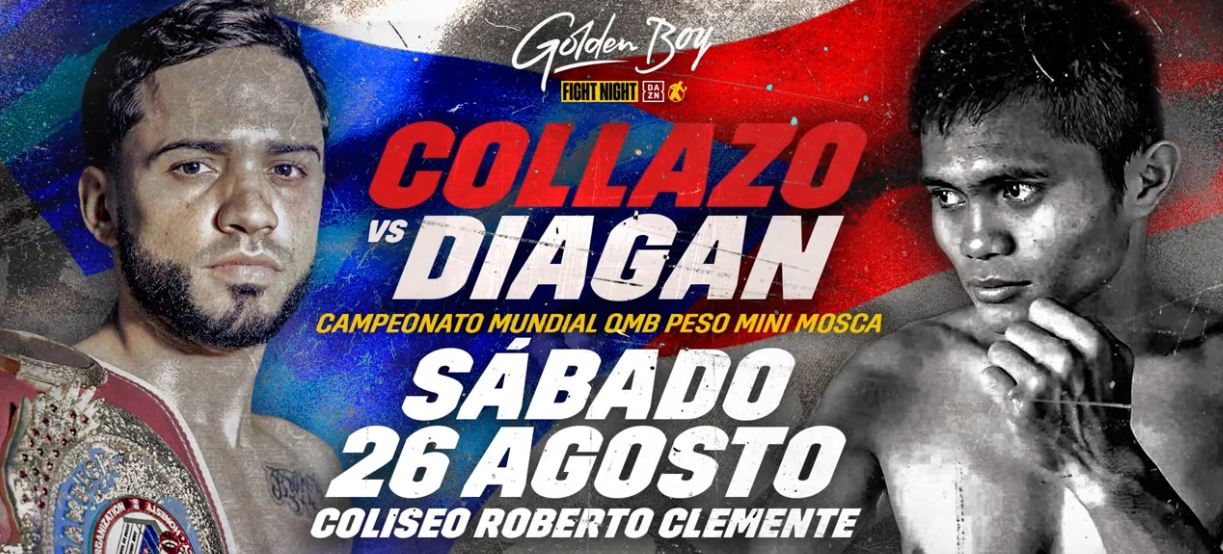 Oscar 'El Pupilo' Collazo vs Garen 'Hellboy' Diagan takes place on Saturday, August 26 and will be live streamed on YouTube and DAZN, from the Coliseo Roberto Clemente in San Juan, Puerto Rico.
The undefeated Puerto Rican WBO minimumweight title older Oscar Collazo (7-0, 5 KOs) is ready to make the first defense of his belt against Filipino challenger Garen Diagan (10-3, 5 KOs).
Collazo, 26, is promoted by hall of fame legends Miguel Cotto and Oscar De La Hoya, and the two retired boxers turned promoters see big things for the young champion.
When Collazo fought Melvin Jerusalem of the Philippines last May he believes he would become the champion even before stepping into the ring and he achieved his goal with a sensational victory.
Tonight he will defend his belt against another Filipino in Diagan and will do it in front of adoring fans in Puerto Rico.
The 27-year-old Diagan comes from General Santos City, Philippines the home of the great boxing legend Manny "Pac-Man" Pacquiao and he is inspired to be just like his boxing idol and become a world champion by upsetting the champion in his hometown.
The card will showcase Puerto Rican talent such as Juan Carlos Camacho taking on Mexican Jorge Orozco in a 10-round super flyweight co-main event.
Former world champion Angel Acosta of Puerto Rico takes on Nicaraguan Carlos Buitrago in a 10-round flyweight bout.
The entire card will be streamed on YouTube and DAZN, and promoted by Golden Boy promotions in association with Miguel Cotto promotions.
Golden Boy Fight Night Card
Minimumweight Championship – Oscar Collazo vs. Garen Diagan (WBO Title)
Super Flyweight – Juan Carlos Camacho vs. Jorge Orozco
Flyweight – Angel Acosta vs. Carlos Buitrago
Super Featherweight – Yan Santana vs. Jostin Ortiz
Light Heavyweight – Yair Gallardo vs. Kevin Johnson
Oscar Collazo vs. Garen Diagan begins at 8:00 p.m. ET/ 5:00 p.m. PT on Saturday, August 26, 2023, Live Stream on DAZN and Golden Boy's YouTube Channel.