BERLIN, Germany (AFP) — Britain's rising ring star David Haye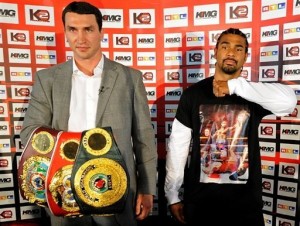 on Thursday declared open war on world heavyweight champions the Klitschko brothers as he prepares to meet IBF and WBO belt-holder Vladimir on June 20.
"I have declared war on the Klitschko family, first on Vladimir and then Vitali, that is the plan and on June 20 the war will begin," Haye told a press conference on Thursday in Gelsenkirchen with Vladimir sat next to him.
Self-styled "The Hayemaker", Haye will challenge the younger Klitschko brother at the Veltins Arena, the home of Bundesliga side Schalke 04, and said he intends on making history when the pair meet.
"I am in my prime, my resume speaks for itself I am not coming here to pick up a pay check like the rest of his opponents," said the brash Brit….Full Story
Join the NowBoxing Forum sign up is FREE