WBA super middleweight champ Mikkel Kessler of Denmark(42-1, 32 KOs and Olympic Gold Medalist Andre Ward of Oakland, CA(20-0, 13 KOs), weighed in for their Saturday Nov. 21 boxing match at the Oakland Airport Hilton.
Mikkel Kessler came in at 167 lbs, Ward weighed in at 166.5.
This bout will conclude the first round of Showtime's Super Six World Boxing Classic Tournament.
Watch Kessler vs. Ward Live at Oracle Arena, Oakland, CA on Showtime at 10 p.m. ET/PT.
(AP Photos/Paul Sakuma)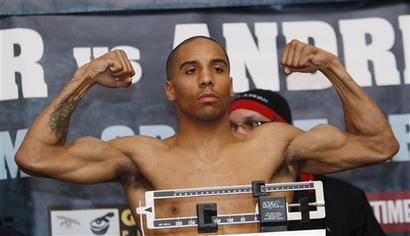 Discuss this and other boxing events in the Now Boxing Forum (membership is FREE)
(Please refrain from leaving any Vulgar, Racist comments or they will be removed, Thank You)