The official press conference for the March, 20, 2010 Wladimir Klitschko (Ukraine) Vs. Eddie Chambers (USA) boxing match took place on January 28, 2010  at the Esprit Arena in Duesseldorf, Germany.
This will be Wladimir Klitschko's fifth defence of his WBO and IBF titles and Eddie Chambers first attempt at the heavyweight titles.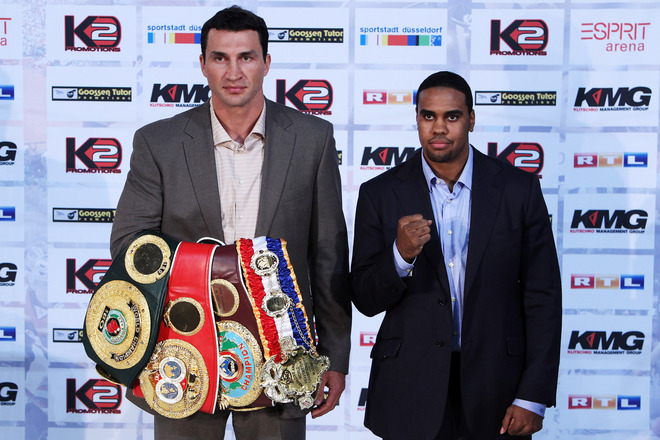 (Photo by Lars Baron/Bongarts/Getty Images)
American challenger Eddie Chambers said he will shock the world when he fights Klitschko and win the WBO, IBF,IBO title belts from the Ukrainian champion.
Wladimir,33, said he will not take Chambers,27, lightly because Chambers is the best current American heavyweight right now.
The fight will take place at the same place they held the presser, the Esprit Arena which seats up to 51,500 fans and regularly hosts soccer(futbol) games.
The March 13, Manny Pacquiao vs. Joshua Clottey fight will also be held in a big venue, the fight will be held at Dallas Cowboys stadium which seats up to 100,000 but will be modified for 50,000 fans when Pacquiao defends his WBO welterweight belt against Clottey on HBO PPV.
Discuss this and other boxing news in the Now Boxing Forum (membership is FREE)