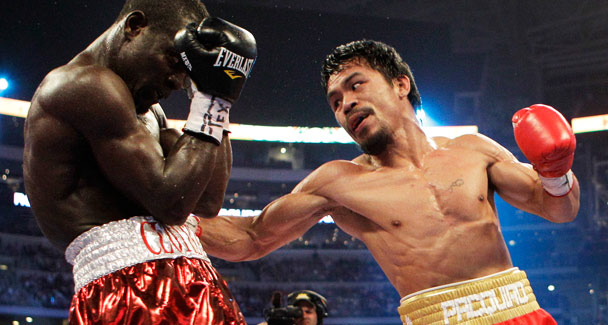 Manny Pacquiao unleashes body shots to the body of Clottey (AP Photo)
By Charlie Knoxville
On Saturday night, March 13, 2010, Dallas Cowboys Stadium was packed with over 50,000 fans. One of the largest live gate attendances in boxing history, all there just to see one man; "The Pacman" Manny Pacquiao. The fans expected fireworks, but Pacman's opponent didn't deliver, he hid in a defensive shell all night.  Pacquiao came to fight, he showed why fans love him, he threw over 1,000 power shots and never stopped.
Pacquiao fought like he was the challenger who had something to prove, Clottey fought to survive, devoid of taking any type of chance. Clottey claims he never felt the power of Manny Pacquiao's punches, but if that were true, he would of exchanged more often, it looked like he was afraid to open up thinking he would get knocked out by one of Manny's many lightening fast combos.
I never expected this out of Joshua Clottey, he threw so few punches, this was the biggest stage of his life and he blew it. It would be better to go out like a warrior and take a chance, instead of fight just to say you went 12-rounds with the great Manny Pacquiao and never got knocked out.
Unlike Clottey, Ricky Hatton and Miguel Cotto both went out on their shield, both took a chance, and both came to win against Manny Pacquiao, they both got knocked out and battered, but the fans respected their valiant effort.
Manny Pacquiao came in the ring to entertain the fans, he was so relentless, trying and trying to puncture the tough defense of Clottey.
Clottey has no one to blame but himself. His corner kept telling him you need to throw more punches, that he was losing, Joshua simply shakes his head in disagreement.
If Joshua was thinking he was gonna tire Pacman out and land a lucky power shot on him to put him away, he was wrong, Pacman never tires out, he is a non stop punching machine, he was even stronger and more furious as the fight went on.
Bob Arum would've been better off just making a Zab Judah vs. Manny Pacquiao fight, instead of pairing Pacman up with Clottey. The fans came to see Manny regardless of who he fought, and Zab Judah at least would of exchanged punches with the Pacman.
I watched the fight at a popular bar in my area, and Clottey made people scream at the television,  people were saying "Ref disqualify this guy for not fighting"  or "Take his pay away, make him fight".
I don't think Clottey will have many fans after last nights performance.
In the end Pacquiao won a one sided decision in dominating fashion.
During the post fight interviews with HBO's Max Kellerman, Pacquiao expressed his interest in fighting Floyd Mayweather Jr., Freddie Roach reiterated.
Hopefully Floyd Mayweather Jr. will compromise on the drug testing demands and give the fans the fight they want to see. Floyd still has a tough opponent to get by on May 1st in Sugar Shane Mosley.
After last nights performance by Pacquiao, I doubt Mayweather Jr. wants anything to do with the Pacman.
Got an Opinion? Submit Your Article to be posted on Nowboxing.com
(Please refrain from leaving any Vulgar, Racist comments or they will be removed, Thank You)
JOIN the Now Boxing Forum (membership is FREE)

I am an avid fan of boxing and video games. My first fight of memory was watching Prince Naseem Hamed destroy Kevin Kelly. I enjoy all aspects of the sport. My favorite current boxer is Manny "Pacman" Pacquiao. My favorite boxing match is Diego Corrales vs. Jose Luis Castillo 1. I love watching boxing on Pay-Per-View more than being there live because you can really enjoy and watch the action from the best view.