By Jorge Conejo
After hearing the news that my favorite fighter Edwin Valero reportedly beat up his beautiful wife and gave her a collapsed lung, and recently he was involved in a high speed chase while drunk, I lost all respect that I had for the Venezuelan boxer. I was one of Valero's biggest fans; I wrote an article suggesting Manny Pacquiao give Edwin Valero a chance to fight him. I wanted to see Valero vs. Pacquiao, two warriors going at it, toe-to-toe, not Valero beating on his poor defenseless wife and sending her to a hospital.
A fighter has a responsibility to avoid violence outside of the ring. When you know how to fight, you should avoid violent confrontations or even laying a hand on those weaker than you.
Got an Opinion? Submit Your Article to be posted on Nowboxing.com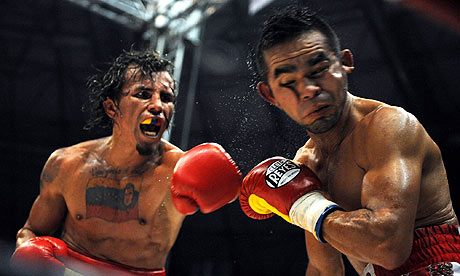 As a fan, I was devastated. I had huge admiration of Valero as a fighter. However, hitting a woman is not admirable.  Valero is a devastating puncher; he can put you to sleep with a single punch, all his fights won by knockout, no wonder his wife's lung collapsed. Valero what were you thinking? It makes it hard for me to root for Valero now. I thought he was a quality guy like Manny Pacquiao, but it turned out he wasn't.
Tiger Woods and Jesse James had infidelities, cheating on your wife is very wrong but hitting your wife is another story. I do not condone cheating but at least there is no physical harm involved, Tiger Woods, and Jesse James can seek some type of counseling, but with Edwin Valero, his image is ruined because when you beat up on a female it's inexcusable violence.  If he was drinking or using drugs at the time, he needs to get himself into rehab and develop some inner strength to stay sober and drug free because drugs are bad and when you have violent temper combined with drugs and alcohol bad things happen.
Another Latino boxer named Carlos Monzon was notorious for partying and beating up women. Monzon wound up in prison for murdering his second wife Alicia Muniz an angelic blond he threw off a balcony after beating her to a bloody pulp, If Valero does not seek help now and try to clean up his act, he might end up like Monzon.
Got an Opinion? Submit Your Article to be posted on Nowboxing.com
(Please refrain from leaving any Vulgar, Racist comments or they will be removed, Thank You)
JOIN the Now Boxing Forum (membership is FREE)