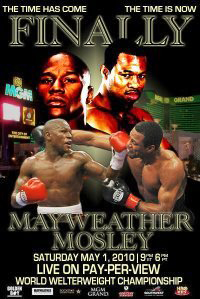 By Jason "Strictly Business" Sardelis
Finally it's "Sugar" Mosley and Floyd "Money" Mayweather. Put aside who's fault it is that this didn't happen years ago. On paper it still rates potentially one of the greatest match-ups.
Mosley has two obvious disadvantages. First the 16 month layoff since destroying Margarito and then there is the five year age difference. Not so much the spread because Mosley is a clean living professional, its that he is 38. Not quite the nine year age difference between Marciano and Louis but the same idea.
Got an Opinion? Submit Your Article to be posted on Nowboxing.com
Whether it was by coincidence or design Mosley though is still the biggest, toughest, strongest, fastest and most experienced opponent Mayweather has ever faced. Even at this point of his career "Sugar" is a true student of the game and the addition of Nazim Richardson could prove to be the difference. Having been lucky enough to camp with Shane I can only imagine Shane and Nazim meticulously studying all of Mayweathers fights above the gym in Big Bear coming with a solid fight plan and alternate.
Floyd on the other hand will be the highest skilled and the best defensive fighter that Shane has ever faced. But that could be said of Leonard in Duran / Leonard I, Ali in Ali / Frazier I and Ray Robinson vs LaMotta II, the latter winning those.
Mayweather is undefeated but there is also the fact that he calls himself the greatest but has conveniently avoided the top fighters in his era. Why didn't we ever see Mayweather Cotto, Margarito or his recent games with Pacquiao. Now finally forced to meet Mosley because of the collapse of the Pacquiao negotiations, Mayweather induced I might add I feel Mayweather has no choice but to face Mosley and then will probably go into another self imposed retirement until Pacquiao goes away. Mayweather choosing Marquez forcing Marquez to come up two weight classes is evidence that much of what Mayweather does in the ring is the fruit of what he does in negotiations. I sense there may be some doubt in camp Mayweather. The imposed drug testing on Pacquiao got him out of that test but when Mosley played his game mayweather placed in the rematch clause. I can't help but wonder how many of "Money" Mayweather last fights had rematch clauses.
This fight reminds me of Leonard / Hagler. "Sugar" Ray avoided Hagler for the longest then negotiated a bigger ring, bigger gloves and a twelve round bout rather than usual fifteen rounds, all playing to his favor allowing Leonard to escape with an extremely controversial split decision that is still argued about today.
Following my heart I'm picking Mosley. I think the one thing he must do is fight within himself. He shouldn't fight his usual, will imposing style early on just take what Mayweather gives him while looking for his best shots. Mayweather will give away many of early rounds so Mosley should do just enough in each of the middle rounds to take the round. Poud Mayweathers left side.
I think that if Mosley stays to Mayweathers left pounding the left side of his body with his right hand never crossing in front of Mayweather like Hatton mistakenly did he can steal some of those middle rounds forcing Mayweather to now press the fight. It is then that Mosley can impose his will, make it a war while picking his spots. Mosley by split decision Mayweather isn't Leonard.
For more go to www.strictlybusinessboxing.com
Got an Opinion? Submit Your Article to be posted on Nowboxing.com
JOIN the NOW BOXING FORUM to discuss this and other boxing news topics (membership is FREE)