WORCESTER, Mass. (May 14, 2010) – The first major mixed-martial-arts show in Massachusetts history, the May 21st "Moosin: God of Martial Arts" pay-per-view event, offers much more than the much-anticipated super heavyweight showdown between 2-time UFC heavyweight champion Tim "Maine-iac" Sylvia and 5-time World's Strong Man, Mariusz "Dominator" Pudzianowski, at the DCU Center in Worcester.
Fans in attendance, as well as PPV viewers, will watch entertaining fights featuring many of the leading MMA fighters in the world. The main event between Sylvia (25-6-0), a native of Eastbrook, Maine, and Polish sports icon Pudzianowski, promises to climax an evening of explosive action.
"God of Martial Arts" is being presented by Moosin, the South Korea-based promotional company, which has promoted MMA shows in South Korea and the United States. Moosin, in conjunction with the International Taekwon-Do Federation, plans expansion into to China, Poland and Australia.
"God of Martial Arts" is being distributed by Integrated Sports Media at 9:00PM ET/6:00PM PT in North America on cable and satellite Pay-Per-View via iN Demand, DIRECTV, TVN and DISH Network, as well as Viewer's Choice, Bell TV and Shaw PPV in Canada, for a suggested retail price of only $29.95 (also available in HD). It is also available on www.GoFightLive.TV outside of the United States, Canada, United Kingdom and Poland.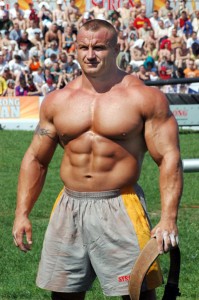 Korean heavyweight Mu Bae "The Heavy Tank of Busan" Choi (9-4-0) meets veteran Travis "Diesel" Wiuff (59-14-0) in the co-main event. Choi is a former Greco-Roman wrestling champion, who has fought in Pride and Sengoku, making his U.S. debut. One of the most experienced MMA fighters in the world, Wiuff was a 2-time NJCAA All-American wrestler whose MMA victims include former UFC heavyweight champion Ricco Rodriguez and other UFC fighters such as Keith Jardine, Sean Salmon and Chris Tuchscherer, in addition to former IFL titlist Matt Horwich.
Brazilian middleweight Rafael "Sapo" Natal (11-2-0) takes on The Ultimate Fighter 4 winner Travis "The Serial Killer" Lutter (10-5-0) in a match between Brazilian Jui-Jitsu specialists. Natal, representing Gracie Fusion, started out fighting in the art of Capoeira, an Afro-Brazilian style using a lot of sweeps and kicks. A BJJ black belt, Lutter gained fame by winning TUF4, defeating Patrick Cote in the finale with an arm-bar. The experienced Lutter has fought Anderson Silva, Rich Franklin and Matt Lindland.
Bahamian lightweight Yves "The Texas Gunslinger" Edwards (37-15-1) squares-off against rising New England star Mike "The Beast" Campbell (7-2-0). An all-around fighter, Edwards, has fought all over the world, including Pride and Bodog, and the Texas resident has registered wins versus the likes of Rich Clementi and Hermes Franco (twice). Providence-native Campbell, who was a potential Olympian in power lifting, outgrew the New England MMA circuit and is ready for the larger stage.
A special attraction features two of the premier female MMA fighters in the U.S., Tara LaRosa (18-1-0) and Roxy Modafferi (13-4-0), at a 130-pound catch-weight, in a rematch of their March 4, 2006 fight that LaRosa won by decision. Modafferi, however, has defeated (submission by triangle choke in 2005) the only woman to ever defeat LaRosa, Jennifer Howe, by TKO (punches) in 2003.
The non-PPV scheduled part of the Moosin show also has worldwide appeal yet  features several local favorites on the undercard: Korean light heavyweight Chang Seob Lee (2-4-0) vs. Lukasz "Juras" Jurkowski (5-6-0), Clinton's Matt Lee (11-8-1) vs. Bridgewater's Brett Oteri (5-0-0) in a match-up of Massachusetts lightweights, unbeaten Worcester (Mass.) welterweight Ralph Johnson vs. NAAFS champion Forrest "The Meat Clever" Petz (23-7-0 undefeated Rockland (Mass.) heavyweight Paul Barry (3-0-0) vs. Stipe Miocic (1-0-0), Stoughton (Mass.) middleweight Fred "French Foot Fighter" Belleton (6-2-0) vs. Anthony "The Recipe" Lapsley (14-5-0).
Also, fan favorite Eric "Butterbean" Esch (98-18-5, all-fighting) squares-off against former Boston Bruins enforcer and popular WAAF sports personality, Lyndon "LB" Byers, in a charity fundraiser. All fights and fighters are subject to change.
Tickets, priced at $35.75, $55.75, $75.75, $150.75 and $250.75, are on sale at the DCU Center Box Office (50 Foster St., Worcester, MA), all Ticketmaster outlets, ticketmaster.com, or by calling 1.800.745.3000.
Doors open at 7:30 PM/ET, first bout 8:00 PM/ET, first PPV bout 9 PM/ET (6 PM/PT). Go to www.MoosinUSA.com or www.dcucenter.com for additional information. For odds on the fights go to http://betus.com.
Moosin: A global event promoter based out of Seoul, South Korea, in conjunction with the International Taekwon-Do Federation, Moosin is known for bringing fans the finest in mixed martial arts competition. Moosin is revolutionizing the MMA industry by merging an international roster of talented fighters with recognizable stars from the world or music, sports and popular culture. Moosin pits warrior against warrior, featuring a hybrid of MMA and hard-hitting Moosin-style kickboxing, in hand-to-hand battles of skill, honor and art.
DCU Center: A multi-purpose arena and convention center uniquely designed to accommodate the needs of any size group from 15 to 15,000 DCU Center is owned by the City of Worcester and managed by SMG, the world's leading private management and developing firm for public assembly facilities. Headquartered on Philadelphia, SMG provides management services to over 200 public assembly facilities internationally and also offers food and beverage operations through SAVOR…Catering by SMG. For more information, please visit www.dcucenter.com.
Integrated Sports Media: North America's leading distributor of International Pay-Per-View and Closed Circuit sports events has presented World Championship and world-class boxing matches featuring Ricky Hatton, Christian Mijares, Evander Holyfield, Roy Jones, Jr., Ivan Calderon, Rocky Martinez, Nicolai Valuev, Amir Kahn, Marco Antonio Barrera, Arthur Abraham, David Haye, John Ruiz, Wilfredo Vazquez, Jr., and Ruslan Chagaev. In addition, Integrated Sports Media distributed numerous International soccer matches showcasing teams like Club America of Mexico and the National Teams of Argentina, Honduras, El Salvador and the USA, as well as World Championship and world-class mixed martial arts shows featuring Fedor Emelianenko, Tim Sylvia, Bobby Lashley, Bob Sapp, Jeff Monson, and Roy Nelson. For more information on upcoming Integrated Sports events visit www.integratedsportsnet.com.
Got an Opinion? Submit Your Article to be posted on Nowboxing.com
JOIN the NOW BOXING FORUM to discuss this and other boxing news topics (membership is FREE)