MANCHESTER, Conn. (June 10, 2010) – Undefeated, 23-year-old NABF and NABO champion Matt "Sharp Shooter" Remillard arguably rates as America's leading contemporary featherweight and the old-school fighter can't wait to prove his worth to the boxing world.
Remillard, now rated No. 7 by the World Boxing Council, may not have a true signature fight, yet, but he improved his pro record to 23-0 (17 KOs) last month with a fourth-round TKO of Carlos Rivera (16-4-2), retaining his NABF belt and capturing the vacant NABO strap. The Manchester, Connecticut fighter had to overcome his first taste of adversity in the ring, a cut over his eye that required eight stitches.
"It was the first time I was ever cut in a fight," Remillard said. "I didn't paw at it but realized that I could lose on a cut, so I picked-up the pace. It was a wake-up call for me. The cut was clean and there's no scar tissue.
"With each fight I'm getting more confident, utilizing my boxing skills more but, at first, it was a little more difficult against a southpaw like Rivera. The first round was like a chess match. I may have lost the round but, I had to establish my left foot outside of his left, and I did."
Remillard has shown some signs being like a young Micky Ward, another New Englander known for his vicious body attacks. Lately, "Sharp Shooter" has been zeroing in on his opponents' livers with tremendous results, including a few breath-taking shots unloaded on Rivera.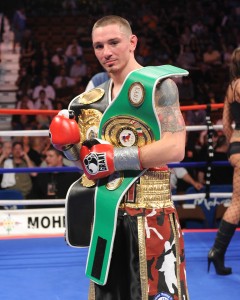 Photo credit: Emily Harney/Team Remillard
"I was known for throwing good body shots in the amateurs and I brought it to the pros," Matt explained. "Today, not a lot of fighters do that well. Some guys are so tough, especially Mexicans, that they can take good head shots and walk through them. Good liver punches effect a fighter later on, slowly suffocating 'em, and that's something I've been working hard on in the gym. I'm trying to use pin-point accuracy, not rush, to find the right spots. Years ago, maybe in my third or fourth fight, Micky Ward told me to tap upstairs and then bring that left hook to the body. We still talk about that whenever we meet at fights. A good head-shot immediately affects a fighter. They may not give-up from one good body shot, so I remain patient, knowing it may take two or three rounds to take its toll."
The top two American featherweight prospects are Remillard and unbeaten, 22-year-old USBA champion Mikey Garcia (22-0, 18 KOs), while two others in the best American featherweight debate are veterans Steven Luevano (37-2-1, 15 KOs), former WBO titlist, and Cornelius Lock (19-5-3, 12 KOs).
Already savvy enough to realize that, in the business of boxing, Remillard knows all of the stars need to be aligned properly, in terms of risk and reward, for two undefeated prospects to face-off in a showdown. "I understand it takes money and television to make something like that happen," Matt spoke about rumors of a fight against Garcia. "I'm willing to fight anybody but I leave that to my promoter (TKO Boxing) and manager (Bret Hallenbeck). Garcia stopped Rivera in the seventh round (Aug. 29, 2009) in his 18th fight, I stopped him in the fourth of my 22nd fight. Hey, nobody is calling me out, and I'm not the type to call-out fighters. So, I'll continue working in the gym and wait for my big opportunity.
"There's so much talent in our division, just like in the welterweight and super middleweight divisions. Maybe somebody will start a tournament like the Super Six (super middleweights) that will guarantee money, television and exposure. And the double-elimination is cool, too."
For now, though, Remillard will bide his time. Time, of course, is on the side of the tattooed-fighter called "Sharp Shooter." The throwback, fan-friendly prize fighter from Connecticut is made for television. A self-proclaimed gym rat, Matt continues to sharpen his skills, preparing for a future fight against a top 10-ranked foe, in order to prove to all that he belongs among the 126-pound elite.
Got an Opinion? Submit Your Articles and Press Releases to be posted on Nowboxing.com
JOIN the NOW BOXING FORUM to discuss this and other boxing news topics (membership is FREE)