London – Monday 8th November 2010
Light Welterweight Ben 'The Entertainer' Day has joined forces with boxing coach Scott Borthwick to create an all new boutique style boxing and fitness gym right in the heart of London.
The gym, which they named RingTone Health and Fitness, is located in Drummond Street, London NW1 close to Euston Station and Regents Park and is fully fitted with a sixteen foot boxing ring and full selection of heavy, uppercut and reflex bags. In addition to the boxing specific equipment there is a full compliment of fitness machines and free weights as well as the revolutionary new TRX resistance training system.
On the opening of the new gym Ben, who personally coaches Razorlight's front man Johnny Borrell, said, "It's an exciting time for us, both Scott and I have worked as personal trainers and boxing coaches for a few years now and to actually open our own gym is a dream come true.
We believe that training should be fun, so anyone that comes to RingTone to get fit will find we are quite laid back, mind you don't think that means we go easy on people in training, we don't."
Joining Ben and Scott as house coaches are Ben Doughty and female professional boxer Marianne Marston, who also holds one of her industry leading 'Golden Girl' Women's Boxing Classes at RingTone on Wednesday evening.
RingTone is also home to the all new UltraMitts System speed mitts training system developed by Ben and his good friend Welterweight Karol Ozimkowski.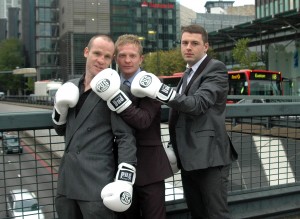 UltraMitts training programme was developed to compliment conventional boxing coaching regimens. By regularly including UltraMitts sessions, as part of a boxers training programme, enables coaches to commit combinations and routines to the memory of his boxers at a faster pace than when just using conventional pad work.
UltraMitts also helps in the development of radar ability, for blocking and parrying of shots at high speed from all angles. In addition the use of the UltraMitts system also noticeably increases hand speed, balance and ring movement due to the super fast pace of UltraMitts.
RingTone Health and Fitness Gym is located at Basement, 141-153 Drummond Street,
Euston, London NW1 2PB.
For further information see www.ringtonehealthandfitness.com
*Please refrain from leaving any Racial, Profane or Derogatory comments*
Got an Opinion? Submit Your Articles and Press Releases to be posted on NowBoxing.com
JOIN the NOW BOXING FORUM to discuss this and other boxing news topics (membership is FREE)