London - Wednesday, 15th December 2010
Former WBU World Lightweight Champion Graham Earl returns to his old stomping ground, The York Hall in Bethnal Green, London, on Saturday 22nd January. However it will not be a return to the ring as Graham will be promoting London's first championship boxing event of 2011 - 'CAPITAL PUNISHMENT'
Graham has a long history of championship glory at York Hall. In March 2001 he secured his first title by beating Brian Gentry to lift the BBBofC Southern Area Lightweight belt. Graham successfully defended the title three times, twice at York Hall.
In June 2004 the 'Home of London Boxing' was also the scene of his victory over Bobby Vanzie, for the second time, to lift the coveted British Lightweight title. Unusually Graham had to win the British title twice against Bobby Vanzie. In July 2003 Graham defeated Vanzie at the Goresbrook Centre in Dagenham in a very close fight, but was was stripped of the title when he was unable to defend due to an injury. The BBBofC then sanctioned him to fight for the vacated title, again against Vanzie!
Graham defended his British title twice at York Hall, firstly against Steve Murray in July 2004 and then against Kevin Bennett in June 2005, when he also gained the Commonwealth crown.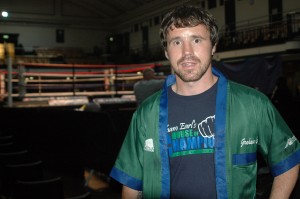 But without doubt the reason York Hall is etched deep in Graham's heart  is that it was the setting of his most glorious victory, when he beat Angel Hugo Ramirez to become the WBU Lightweight Champion of the World on the 28th October 2006.
Graham has an impressive history at the York Hall, something he will surely strive to continue in the future, albeit as a promoter.
Come January Graham will be hoping that his charge Paul Morby, who headlines the 'CAPITAL PUNISHMENT' show with his first defense the BBBofC Southern Area Super Middleweight title against a seriously tough challenger in Essex's Daniel 'Mr Slick' Cadman, will enjoy the same level of success at the famous London landmark as he did.
Portsmouth's Morby came off a four loss streak to cause one of the upsets of the season by beating the  highly experienced Matthew Barney and lift the Southern Area title in October.
Morby's going to have his hands full though as  'Mr Slick' is tough and well capable of taking this fight to the wire. Back in June Cadman made the semifinals of Prizefighter - Super Middleweights only to lose by a close unanimous 28-29 points decision to eventual tournament winner Patrick Mendy.
To support the Morby-Cadman main event, Graham has put together an under card featuring top class boxers including British Masters Light Welterweight Champion Jay 'The I.O.W. Assassin' Morris, and no less than five young unbeaten fighters, Middleweight Joe Hillerby, Light Welterweight Terry Holmes, Light Heavyweight Joel 'El Toro' McIntyre, Light Heavyweight Navid 'Nav' Iran and rising Super Featherweight star 'Saint' George Jupp
Tickets for the Graham Earl Promoted 'Capital Punishment' event at the York Hall, Bethnal Green, London on Saturday  22nd January 2011 are now on sale and priced £35 (Unreserved) or £50 (Ringside).
For tickets call: 07960 850645, book on-line at www.tkoboxoffice.com or call in person at The Ultrachem TKO Gym, Gillian House, Stephenson Street, Canning Town, London E16 4SA.
*Please refrain from leaving any Racist, Profane or Derogatory comments*
Got an Opinion? Submit Your Articles and Press Releases to be posted on NowBoxing.com
JOIN the NOW BOXING FORUM to discuss this and other boxing news topics (membership is FREE)