By Gary Purfield
Chris Arreola 30-2 (26 KO) making his second consecutive appearance on ESPN's Friday Night Fights made short work of his overmatched challenger Joey Abell 27-5 (26 KO). Arreola scored a first round knockout after landing a monster straight right.
The difference in class for this fight was apparent in the manner Arreola landed the main blow. Abell, a southpaw, threw a left cross that Arreola easily slipped and then countered with a right cross as Abell was leaning back. Abell went sprawling back into the ropes and bounced forward. Arreola then landed several left hooks and straight rights leaving Abell dazed and defenseless with his hands down and legs in an awkward spread. Referee Tony Crebs jumped in stopping the fight at two minutes and eighteen seconds of the first round. As he did so Arreola stopped punching and as only he would do gave Abell a kiss on the cheek before going into an elated celebration.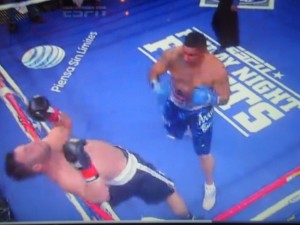 Arreola announced "I'm back baby, I'm back" to the crowd and TV cameras making it clear he feels he is past his struggles last year and again a top contender for the heavyweight crown. Arreola stated in his interview afterwards that "this is just one fight and I have a lot to prove." He went on to say the goal is to be a world champion and every fight in 2011 is going to show his dedication. On new trainer Ronnie Shields he stated "he fixed my flaws and when I threw the right hand I was balanced, used my jab, and moved my head because I'm ugly and I don't want to get any uglier."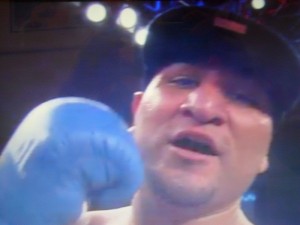 Arreola was once considered America's best chance at knocking off one or both of the two headed heavyweight monsters Vitali and Wladimir Klitschko. He gained attention and a growing fan base as a rare Mexican-American heavyweight. He also intrigued the public with his aggressive come forward style and outgoing personality. Arreola was long on talent but unfortunately short on dedication to his craft and conditioning. After several HBO appearances knocking out the likes of Chazz Witherspoon and Jameel Mcline Arreola got a shot at Vitali Klitschko. Arreola showed his heart in the fight never stopping his efforts but was badly beaten down causing trainer Henry Ramirez to stop the fight after ten rounds.
After a knockout win over Brian Minto Arreola returned against former cruiserweight champ turned heavyweight Tomasz Adamek. Despite being the bigger harder puncher Arreola's lack of conditioning was evident as Adamek boxed Arreola around the ring. Arreola again followed his loss with a win over lesser competition winning a unanimous decision against Manny Quezada on FNF but was hardly impressive and not in shape.
The team decided it was time for a change. Longtime trainer Henry Ramirez took a back seat and in stepped veteran trainer Ronnie Shields. This in no way was a knock on Ramirez who is a good trainer but an opportunity to force Arreola to train away from home in Houston with Shields on someone else's terms.
It is hard to judge how effective the new team was considering Arreola had an easy time tonight but Shields stated he was happy with Arreola's efforts. In previous camps Arreola made his own schedule but now Shields was running the show. Shields stated prior to the fight that he wanted Chris to get back to his old style including throwing combinations. In the short outing tonight Arreola looked sharp with his head movement and putting together punches. He also weighed less than 250lbs for the first time since the Witherspoon fight in 2008. Arreola is never going to have the ripped physique of the Klitschko's but tonight he had far less of a spare tire then he has in previous bouts.
Make no mistake if you are looking for an American to regain the once coveted title of heavyweight champ Christobal Arreola is your best bet. He has been boxing since he was eight years old and has a natural gift and underrated skills. If he follows the guidance of Shields and Ramirez he is still young enough and talented to enough to become a player in the watered down division. Another step up in competition and more time under the tutelage of Shields will be a step in the right direction towards his dream of being the first man of Mexican descent to gain a heavyweight title.
Teddy Atlas Quote of the night: Atlas states after Arreola landed the knockout punch and then the kiss to Abell "Arreola being a gentleman and not punching anymore, something a little unconventional, a kiss. I guess what Arreola was telling you was I gotcha, your hurt, your mine, and I'm giving you a gift. I'm going to kiss you instead of hitting you". Joe Tessitore got in the mix following Teddy with "literally a kiss goodnight, huge right hand from Arreola". Love him or hate him, Atlas is one of a kind.
Got an Opinion? Submit Your Articles and Press Releases to be posted on NowBoxing.com
*Please refrain from leaving any Racist, Profane or Derogatory comments*