Revolver Entertainment's new to DVD action drama movie 'Fists of Rage' is to sponsor Tony 'The Conqueror' Conquest versus Prince George Akrong, which co-headlines the Steve Goodwin quadruple headlined 'Essex Eruption' event at the Goresbrook Leisure Centre in Dagenham, this coming Saturday.
Revolver Entertainment moved fast, to secure Fists of Fury as bout sponsor, following last night's announcement that the fight between top ten ranked Conquest and Ghanaian Cruiserweight Champion Akrong had been made.
Fourteen fight veteran Akrong secured the Ghanaian Cruiserweight title with a convincing unanimous 116-114 and 118-112 (twice) points decision over Isaac Paakwesi Ankrah in Accra, Ghana on the 4th December 2009.
An opponent such as Akrong is seen as a step up in class for Conquest, not that this will faze the Romford based Cruiserweight one iota as he has previously stated that he is aiming to get a title shot before the year is over.
Saying that Conquest's last fight, back in September, was against the seriously tough Hastings Rasani, who is no walk in the park at the best of times as Leon Williams, JJ Ojuederie, Billy Boyle and three time world title challenger Bruce 'Lionheart' Scott can attest, having all lost to the Brummie hardman.
Right from the start Conquest oozed confidence and made easy work of controlling the fight. As Conquest showcased his range of combinations Rasani just stood his ground, seemingly content to bide his time.
Conquest was savvy, using sharp attacks and swift movement to prevent Rasani being able to mount any sustained attacks of his own. After six rounds Conquest was rightfully declared the winner by a clear 60-54 points
margin.
On securing 'Fist of Rage' as sponsor for the Conquest-Akrong bout sports publicist Gianluca (Rio) Di Caro said, "It's great news for the sport that Revolver Entertainment are now sponsoring the headline bouts at both London shows this weekend, with their excellent all action 'Fists of Rage' movie.
Revolver Entertainment's decision to sponsor Tony's fight against Prince George Akrong speaks volumes to the quality and importance of this fight.
Steve Goodwin has been fantastic, even though this offer came at such short notice, he has gone out of his way to ensure that the 'Fists of Rage' movie will receive maximum exposure at his Essex Eruption event."
Revolver Entertainment, one of the UK & Eire's leading 'All Rights' distribution companies, is shaking up the industry with a unique approach to managing and promoting its enviable and edgy slate of Film and DVD releases.
Revolver Entertainment's latest offering – Fists of Rage – is an all action drama rammed full of breakneck speed battles and sensational mixed martial arts. It's bare knuckled bloodshed at its breathtaking best!
Two street warriors come to understand that not every battle is fought for money or power in this gritty urban action thriller featuring Jason Barry (Titanic), Russell Wong (Romeo Must Die), and 'Rowdy' Roddy Piper (WWE
Legend). When street gangs clash with the local police in a series of bloody battles, neighbourhood friends Raymond (Wong) and Gabriel (Barry) are forced to choose sides. In the ensuing brutality, Raymond is plunged
into the cold confines of prison as Gabriel is forced to fight a vicious war on foreign soil. Later, when Raymond and Gabriel arrive back in their old neighbourhood, the two soldiers put their survival skills to the ultimate test as they struggle to maintain their honour in a city where life is cheap and death comes fast.
Fists Of Rage, directed by David Worth (Kickboxer) and distributed by Revolver Entertainment, is new to DVD and will be released nationally on the 28th March 2011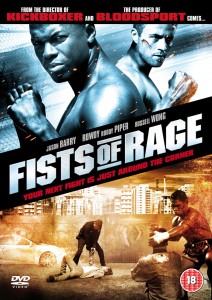 Tony 'The Conqueror' Conquest versus Prince George Akrong, sponsored by Revolver Entertainment's new to DVD action drama movie 'Fists Of Rage', will co-headline the Steve Goodwin promoted 'Essex Eruption' mega show at Goresbrook Leisure Centre in Dagenham, Essex on Saturday 19th March 2011.
Co- headlining 'Essex Eruption' are Southern Area Cruiserweight champion Leon 'Solid' Williams versus David Vicena, British Master challenger 'Phat' Pat McAleese faces Franz Gonzalez and International Masters Light
Middleweight Champion Yassine 'The Showman' El Maachi versus Ulises David Lopez
The undercard of the quadruple headlined super show includes a whole host of local talent including Ultrachem TKO team mates Daniel Herdman, who faces Kevin McCauley, 'Pretty' Ricky Boylan versus Kristian Laight and the
highly rated unbeaten Featherweight prospect 'Saint' George Jupp against a yet to be named opponent.
Michael 'The Zambezi Hitman' Norgrove will be looking to extend his unbeaten record to five when he faces Czech Republic's Jan Balog. Another fighter who will be looking to increase his uneaten record is Biggleswade's Jamie Boness.
Middleweight Kris Agyei-Dua and Danny Brown will be making their second outing in a Month, after both securing wins on their debuts at York Hall on February 20th.
Tickets for ESSEX ERUPTION at the Goresbrook Leisure Centre in Dagenham, Essex on Saturday 19th March 2011 are priced £35 (Unreserved) or £60 (Ringside) and on sale NOW.
For tickets book on-line at www.tkoboxoffice.com, call: 07960 850645 or in person at The Ultrachem TKO Gym, Gillian House, Stephenson Street, Canning Town, London E16 4SA.
Fists Of Rage, distributed by Revolver Entertainment, is new to DVD and will be released nationally on the 28th March 2011 and can be pre-ordered now at Amazon – www.amazon.co.uk – and HMV – www.hmv.com