By Gary Purfield
This past Saturday another challenger to the Klitshko throne fell short when Odlanier Solis could not continue at the end of the first round against the older brother Vitali.  So now the attention will turn to former light heavyweight and former cruiserweight champion turned heavyweight contender Tomasz Adamek.
Adamek has a signed contract to fight one of the Klitschko's later this year.  Like anyone else he will enter as a big underdog against either of the K brothers but Adamek has as good a shot as any heavyweight challenger out there today.
While he will have a significant size disadvantage of several inches in height and probably will be giving up around thirty pounds Adamek will have some advantages.  So far he has shown his solid chin is holding up at the heavyweight level.
Since moving to heavyweight Adamek is actually considered a speedy fighter for a heavyweight and he will likely have faster punches and footwork against either brother.  Adamek has also been smart about the transition to heavyweight with his style.  At cruiserweight he was often willing to stand and brawl but since fighting the big boys over 200lbs he has been a much smarter boxer using movement to avoid taking big punches.
Which brother Adamek gets is based on several factors including which brother fights David Haye in June or July (likely it will be Wladimir if his injury heals and if it does not Vitali can step in).  If the brother that fights Haye were to lose to the Brit Haye then the other brother faces Klitschko.  If the Klitschko wins then the brothers have the choice as to which brother gets Adamek.
The fact that Adamek was willing to enter a contract where he does not even know which brother he gets shows a confidence and willingness to challenge himself that is typical of Adamek's career.  Consider David Haye who signed and backed out of contracts to fight a Klitschko multiple times and it adds more credit to Adamek's professionalism and fighting spirit.
Adamek is a throwback fighter in many ways.  He fights in his adopted town and Main Events base of Newark NJ where he has built a large following of Polish American fans and fight fans in general that swarm to the Prudential Center in large crowds for his fights.  In an age when top fighters sit and wait for premium cable dates fighting once or twice a year Adamek fights four times a year with or without TV support.  His popularity and ability to put butts in seats allows him to stay active without the support of major cable networks that he probably deserves.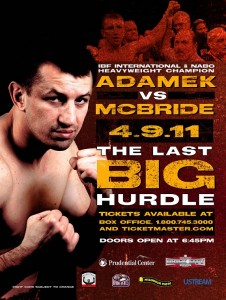 Before Adamek meets a brother K he will have one more step up not in competition but in size when he takes on Kevin McBride on April 9 at the Prudential Center.  For this reason the fight has been titled the last big hurdle signaling that after this last giant with lesser talent it will be time for Tomasz to go after the real prize.  If Adamek were to pull the upset he would not only be the heavyweight champion but factor in his accomplishments at light heavy and cruiserweight he would probably rocket up the mythical pound for pound lists.  In McBride who is best known for his victory over Mike Tyson at the end of iron Mike's career Adamek will get another trial run at a tall heavyweight.  Then the training wheels come off later in the year for the real heavyweight hurdle.
Question, comment, agree, disagree, or anything at all, send it to gpurf3@hotmail.com
Got an Opinion? Submit Your Articles and Press Releases to be posted on NowBoxing.com
*Please refrain from leaving any Racist, Profane or Derogatory comments*