By Gary Purfield
Main Events Promotions hosted the final press conference at Brick City Bar and Grill in Newark, NJ on Wednesday in preparation for the IBF Jr. Welterweight title fight between former champ Zab Judah and Kaizer Mabuza this Saturday.
The veteran Judah will be looking to again be a champion and Mabuza will look to grab his first title belt after he earned his mandatory position when he stopped Kendall Holt last year.  The card will be the first to take place at the Prudential Centers Amerihealth building to begin a series of cards promoted by Main Events to feature up and coming fighters.  The series is a return to Main Events roots of promoting local fighters on the rise in competitive bouts.  The arena is being billed as an intimate setting that will provide exciting boxing with great seats and a standing room area for those that want to watch and mingle with other fans.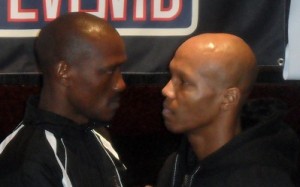 Main Events CEO Kathy Duva opened discussing Judah's return to Main Events, return to a 140lb title fight, and the style contrast in the main event.
"He has come back to Main Events, he has done everything we have asked him, he has gone above and beyond anything we would have ever expected.  The result is he will be taking his shot to regain that world title."
"This is one of those fights where I don't know how anyone can resist it.  There are so many fights where people talk about and the results are foregone conclusions.  Well that is not what we have here.  We have an explosive combination of the styles that will make for an amazing event."
Mabuza and his assistant trainer had little to say.  "Mabuza stated "I'm glad to be back in America. It's an honor to me to fight a person like Zab Judah. I think he had his time; he's a former world champion. I think this is my time, because I'm still hungry for success. And I promise him, when I take the ring I change, I become a new man. I'm hungry for success so you have to expect that it will be like fireworks."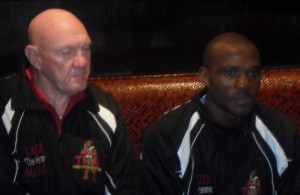 Former legend in the ring Pernell Whitaker who was promoted by Main Events his entire career spoke about training Judah for the first time.
"He's been very successful.  He's done everything Pernell has asked him to do and I wouldn't expect anything less.  What Zab did in the past is the past.  He has a new direction."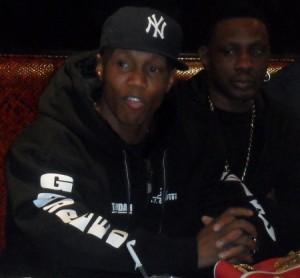 Whitaker well known as "sweet pea" was asked how you break old habits after so many years.
"Easy, just tell him stop."  "The name of the sport is called boxing. You don't call it knockout. You can go get that on video. He's got all the finesse, and finesse and speed brings power."
"All the old habits that Zab once had are no longer there.  My famous word is boy, listen."
Judah took the floor last and spoke about his opponent and his idea on what will happen.
"Come Saturday night we're gonna have some fun.  I respect Kaizer Mabuza for what he's done., he's a young man and will have this chance again.  Come Saturday night you will see a five time champion of the world."
I asked Zab during the questioning what kind of influence trainer Pernell Whitaker has had and about the experience working with the former champ.
"Pernell had a great influence.  I think we are going to go to the def comedy jam afterwards.  Not only has he brought great skills to myself he's tweaked my whole world.  He's also brought humor, entertainment, he kept the camp happy brought a lot of excitement, joy, and fun.  We had a great training camp in Las Vegas, trained very hard.  I skipped Christmas, New Years, and kept my mind focused on Kaizer Mabuza.  I stay focused and trained for a long time.  I'm ready.
"For this fight I went to the master.  He was known for going twelve rounds, he is known for being the best fighter out there.  He was known for his defensive skills, his defensive skills are phenomenal, his offensive skills are phenomenal, I took from what I got and put what he's got and it's gonna be magic."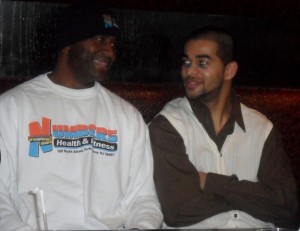 The co-headliner features veteran Tarvis Simms 26-1-1 (11 KO) dropping down from super middleweight to middleweight against John Mackey 13-5-2 (6 KO).  Simms who lost a close decision to Alan Green last year will be looking to take a run towards a middleweight title.
Also featured will be former US Olympian and highly regarded prospect Sadam Ali 11-0 (6 KO) who has become a regular on Main Events cards taking a step up in competition against Juliano Ramos 16-4 (3 KO).
Former golden gloves champ Vinny O'Brien makes his pro debut on the card.
"I'm ready to go, I have been talking about it since January and the fight is finally here so I am ready to go.  I want to be very busy next year,  I want to get anywhere from nine to twelve fights,  I want to be busy, busy, busy, keep winning and get my record up."
Jose Peralta, Joe Judah, and Shemuel Pagan round out the featured fighters on the card.
Tickets are available for the fight which is also available in North American on Integrated Sports Media at 9 PM/ET 6 PM/PT on both cable and satellite pay per view via ON Demand, DIRECTV, Avail-TVN and DISH Network in the United States, as well as Viewer's Choice and Bell TV in Canada, for a suggested retail price of only $29.95.
Available as an Ustream online PPV exclusive, the live video broadcast of the fight will be offered for $29.95 in U.S. / Canada at http://www.ustream.tv/brickcityboxingUSA and $4.95 Worldwide at http://www.ustream.tv/brickcityboxinginternational.
Question, comment, agree, disagree, or anything at all, send it to gpurf3@hotmail.com

Got an Opinion? Submit Your Articles and Press Releases to be posted on NowBoxing.com
*Please refrain from leaving any Racist, Profane or Derogatory comments*