By Gary Purfield
Andre Ward advanced to the Super Six tournament finals with a dominant victory over Arthur Abraham and further improved his growing profile as a star in the making.  Ward took a unanimous decision by scores of 120-108, 118-110, and 118-110 to retain his WBA Super Middleweight title.  In the bigger long term picture Ward may be the next big American boxing star as he continues to grow as a fighter with every performance.
Ward 24-0 (13 KO) was heavily favored coming in after being so dominant in his last three fights against Mikkel Kessler, Alan Green, and Sakio Bika while Abraham 32-3 (26 KO) looked terrible in back to back losses to Andre Dirrell and Carl Froch.  Abraham came out from the opening bell with a  re-invigorated attitude by pressuring Ward and boxing with early aggression.  What was expected to be a rout suddenly early on looked like it could be an upset with Abraham starting very well.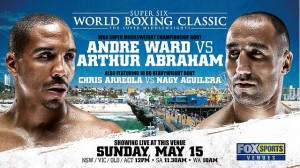 The normally slow starting King Arthur was using a stiff jab and well-timed straight rights to put Ward on notice that this would not be an easy win.  Ward had an effective second round to get going.  Then in the third Abraham had probably his best round since his knockout victory over Jermain Taylor.  Abraham was surprisingly much more active in round three than the champion and was setting a tone to have a big night as he did when he reigned as a middleweight champion.
At this point two questions were prevalent.  First could Abraham keep this pace and second how would Ward respond to probably the toughest adversity he has faced as a pro.  In round four Ward started to answer both questions emphatically.  Ward began moving forward using his speed advantage to consistently back his opponent up with sharp non-stop combination punching that left Abraham again without an answer.  Once Ward took control he never let up and wore down Abraham throughout the fight.
Ward continued his dominance throughout the entire second half of the fight.  Round after round his jab and combination punching pounded Abraham who became less and less active as the body punching took its toll. Abraham only through nine punches in round seven and often went back to his corner between rounds breathing heavy and leaning on the ropes.
Abraham kept trying even making a last minute rally in the twelfth to land back to back left hooks in the last round that got Ward's attention but it was far too little too late.  Ward cruised out the twelfth to take a no doubt victory.
Ward showed that he is superb boxer, a tough fighter, and capable of staring down adversity to rise to the challenge against a tough determined fighter.  Meanwhile Abraham had no answer to Ward's speed and superior skills.  Abraham also began tiring more and more as the rounds ticked by.  He started working behind a strong jab and educated boxing but after round five was left with nothing but his turtle shell defense and occasional wild flurries of wide swinging punches that were not going to be effective against a fighter as skilled as Andre Ward.
Make no mistake that Arthur Abraham would have intimidated and beaten most super middleweights on the planet with his aggressive start and power punching.  Except tonight he faced a superior fighter who had the will to overcome his opponent's aggression and wear that opponent down to a shell of himself by the middle rounds.
Afterwards Ward stated that coming in he knew Abraham was a "very strong fighter, he's a champion, but we are going home with those belts tonight".  Ward seemed to know before the fight that he would get a tough fight from his opponent despite the recent losses and that he would have to dig deep to win which he certainly did.
Abraham knew he had lost and stated "I fought hard.  I gave my all went for the knockout and could not get it.  I'm sad, I'm not happy about this.  Thank you to the American people and American fans."  The future is tough for Abraham who has said he will not go back down to middleweight but seems not cut out to handle the top super middleweights.
For Ward he will move on to the Super Six finals against the winner of the other semi-final matchup between Carl Froch and Glen Johnson.  The last American to win a gold medal in boxing at the Olympics is on the verge of becoming America's next big boxing star.  He continues to get better and better with each fight.  Each time out he shows new wrinkles to his skills, his style, and his overall performance.  Those looking for an American boxer to rally behind should look to Andre Ward as he continues his impressive rise to the top.
Question, comment, agree, disagree, or anything at all, send it to gpurf3@hotmail.com
Got an Opinion? Submit Your Articles and Press Releases to be posted on NowBoxing.com
*Please refrain from leaving any Racist, Profane or Derogatory comments*