Story and photos by Gary Purfield
Welterweight prospect Ronald Cruz stopped tough veteran Doel Carrasquillo in the sixth round of a scheduled ten at the Sands Casino in Bethlehem. Cruz was in his first bout as a headliner and fighting for the first time in his hometown of Bethlehem. The card was televised via internet on gofightlive.tv.
Cruz entered the ring to a raucous 1,300 plus hometown supporters and energized atmosphere, with many proudly waving Puerto Rican flags. Cruz himself entered waving two Puerto Rican flags and acknowledged the crowd from each side once he entered the ring. Carrasquillo played his part as the villain well by taunting and jeering Cruz along with his supporters throughout the pre-fight pageantry.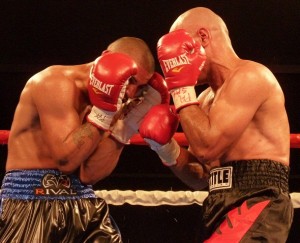 Once the bell rang Cruz showed no signs of being too caught up in the emotions of being at home. He methodically went about breaking down his opponent to the body and the head.
"I was so focused to go in there and do my job. I pretty much understand I can't let the emotion of the crowd, I can't get emotional, I have to go in there and do my job."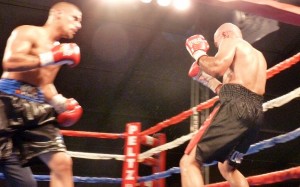 The hometown fighter was busier than his opponent as he landed heavy blows while maintaining an even pace. Carrasquillo seemed to be waiting for Cruz to tire but that point never came.
With each passing round Cruz picked up the pace and reined more and more punishment on the solid journeyman who had few answers. When Carrasquilo did land punches Cruz shook them off and kept marching forward.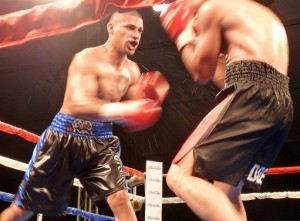 In the sixth round Cruz gave the fans what they came for. Pressuring Carrasquillo with increasing intensity Cruz pounded him with body shots in the corner forcing the normally durable Doel to take a knee. He would rise but only to absorb an increasing assault to the body and head when he would once again take a knee after a thudding punch to the ribs. That was the end giving Cruz a TKO victory at 1:09 in round six. Afterwards Carrasquillo stated he believes the rib was broken in rounds five or six. He also stated he heard his rib crack on the shot that forced him to go down for the second and final time.
Cruz 13-0 (10 KO) passed two tests as a rising prospect Friday night. First, he took out a tough veteran fighter who is known for playing spoiler to undefeated talent. Carrasquillo's 15-18-1 (13 KO) record may not be impressive but he has halted the progress of several young fighters, including in his last fight when he knocked out highly touted prospect Dennis Doughlin. In addition, while Carrasquillo loses more than he wins he has only been stopped three previous times, each time against very talented fighters including Mike Jones. By dominating and stopping Carrasquillo Cruz showed he is a force to keep an eye on as his career progresses.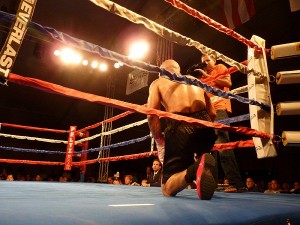 Second, Cruz passed the test of overcoming the pressures and expectations of fighting at home. Before and after the bout his emotions were running high from the energy of the fans, but in the ring he was all business executing trainer Lemuel Rodriguez's game plan to perfection.
The bout was held in a temporary outdoor tent that was tightly packed and loud cheering for Cruz. At several points the crowd broke out into chants of Ronald-Ronald.
"The energy of the crowd, every time he hits me and I hit him back the crowds yells. Everybody gets a little bit of emotion but I try and stay professional."
Cruz and trainer Rodriguez were well prepared. Carrasquillo has an iron chin and simply attacking his head will not get the job done. Cruz went after the body with bad intentions from the onset to break his man down. By the third round it was clear the bodywork was having its intended effect.
"Definitely the game plan for every fight I pretty much start working the body. We wanted to use speed, use angles, and use movement, but once I stuck on the inside and I felt his inside game I pretty much knew I'm a better inside fighter, so I fought his fight and beat him at his fight which is actually my fight also."
"He was slowly weakening. I thought by the seventh or eighth round he was going to have nothing left and I was in shape to go twenty rounds".
"I could tell he was weakening from the body shots. I thought he would go down swinging, I thought maybe by the seventh, eighth round he would go down but he decided to keep fighting so made it a shorter night for me."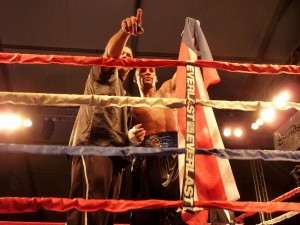 Trainer Lemuel Rodriguez added on stating the plan was to go to the body then the head.
What's next for the young man from Bethlehem is up in the air, but certainly better things are on the horizon. Cruz is surrounded by a good team, lead by trainer Lemuel Rodriguez, manager Jimmy Deoria, and hall of fame promoter Russell Peltz.
Inside the ring Cruz fights hard and has a crowd pleasing style. He is a picture of cool, clam, and determined confidence. He stalks his opponents and methodically breaks them down much like his fellow countryman and Puerto Rican star Miguel Cotto (writers point, not looking to say he is the next Cotto or drop that pressure on a young prospect, simply saying the common heritage and body punching style is worth drawing a comparison). Along with that he is polite, well-spoken, and full of smiles outside of the ring. Whether his next fight is back home, a return to Atlantic City, or another town he is guaranteed to bring exciting action and plenty of crowd support.
Undercard Wrap-Up
Eluid Torres 5-2-3 (2 KO) of Allentown PA and Bryne Green 6-4-1 (3) of Vineland NJ fought to a draw in lightweight action prior to the main event. After six rounds scores were 58-56 for Torres, 58-57 for Green, and 57-57.
Super Middleweight prospect Rashad Brown of Philadelphia remained undefeated with a shutout unanimous decision over Omar Simms 5-4-3 (3 KO) of Baltimore Md. Brown scored a knockdown in round two off a right uppercut but was unable to finish his opponent. Brown 5-0 (2 KO) dominated from start to finish and won on all three cards 60-53.
Zeferino Albino 4-13-3 (2 KO) of Philadelphia took on crowd favorite William Miranda from nearby Allentown PA in a heavyweight brawl. After four grueling entertaining rounds Miranda 3-3-1 walks out the winner by unanimous decision to the delight of the Bethlehem audience by scores of 40-36 and twice 39-37. Both fighters were willing to stand and trade leather. Both were rewarded for their efforts with a standing ovation from the crowd at the conclusion of the bout.
Grayson Blake 3-0 (1 KO) of York PA took a unanimous decision over Anthony Abrams 1-7 of Philadelphia in the Junior Middleweight division. Two judges had the four round fight 40-36 while the third scored it 39-37, all for Blake.
In the opening bout of the evening Cesar Gonzales 0-0-2 of Reading PA took on Joshua Arocho 1-4-1 (1 KO) of Vineland NJ in featherweight action. After four tight rounds all three judges saw the action even by scores of 38-38, a draw.
In the walk out bout Chris Plebani of Bristol PA1-2 won a unanimous decision over David Navarro 0-4 of Philadelphia in a four round welterweight bout. The judges' cards read 39-37, 39-38, and 40-36 all for Plebani.
The Eric Newell vs. John Mercurio heavyweight bout was scratched from the card.
Question, comment, agree, disagree, or anything at all, send it to gboxing3@gmail.com
Got an Opinion? Submit Your Articles and Press Releases to be posted on NowBoxing.com
*Please refrain from leaving any Racist, Profane or Derogatory comments*