Former Olympian and rising Middleweight star Billy Joe Saunders has been named captain/co-manager of the TRAD TKO Boxing Gym's football squad for this Sunday's Boxers and Celebrity Charity Football Tournament, in aid of the Indee Rose Trust, at the Concord Rangers FC in Canvey Island, Essex.
Billy Joe, who will be captaining the team for the second year in a row, has proved to be nothing less than sensational since turning professional in 2009, having stopped six of his nine opponents.
His scintillating performance, that secured a second round stoppage victory over Kevin Hammond, on the undercard of the Groves-DeGale Super fight back in May, was the fight of the night and rightly earned the twenty one year old from Hatfield many new fans as well as his first title tilt this coming September.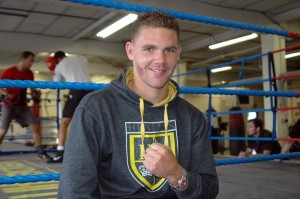 On Sunday Billy Joe will be heading up a star studded squad that includes fellow TRAD TKO Gym mates WBO Inter-Continental Lightweight Champion Kevin 'Mighty' Mitchell, 'Pretty' Ricky Boylan and Eddie Corcoran as well as WBO Light Heavyweight Champion Nathan Cleverly and WBA International Super Bantamweight Champion Rendall Munroe, Former British and European Light Middleweight Champion Jamie Moore, Middleweight George 'The Grill' Hillyard as well as a handful of 'ringers' from the pro-football ranks.
Prior to his training session today Billy Joe spoke briefly on the tournament, "Last year we made it to the final, only to lose to Paul Smith's team. It was a good day out, I really enjoyed it, it was good fun and we raised a lot of money for charity, which is what it's all about. Hopefully we'll do the same this year.
Johnny's put together our team for this year, but they're not that good, besides me that is. But it's a couple of weeks away so i'll get all my players ready and we're ready to come."
On Friday last week Billy Joe spoke with iFilm's Kugan Cassius about the Boxers and Celebrity Charity Football Tournament, video of the interview can be viewed at www.youtube.com/watch?v=JBg3065rXdY
On August 14th Billy Joe will be joining TRAD TKO supremo Johnny Eames, and boxing stars Nathan Cleverly, Matthew Macklin, Kevin Mitchell, Ricky Burns, Barry McGuigan, Paul and Stephen Smith, Willie Limond, Tony Oakey, Ross Minter, Martin Power etc.; will be joined by celebrities such as Alex Reid (MMA), Johnny Borrell (Razorlight), Mark Wingett (Jim Carver – The Bill), Stephen Bell (Coronation Street), various of the Eastenders and Shameless cast etc. at the Concord Rangers FC ground on Canvey Island.
The TRAD TKO Boxing Gym promoted Boxers and Celebrity Football Tournament, in aid of the Indee Rose Trust, kicks off at 12:00pm at the Concord Rangers FC, Thames Road, Canvey Island, Essex on Sunday 14th August 2011.
Tickets for this special event, priced: Standard: £10.00 and V.I.P. £20.00, are available on-line from www.tkoboxoffice.com or in person from the TRAD TKO Boxing Gym, Gillian House, Stephenson Street, Canning Town, London E16 4SA
Children's tickets, priced £5.00, will be available on the day.
For further information either call the TRAD TKO Boxing Gym on 020 7474 3199 or see www.indeerosetrust.org or facebook.com/theindeerosetrust