By Superstar Billy Graham
When we hear Manny Pacquiao talk, often we hear a very soft spoken person that personifies humility, humbleness, and honor. Contrary to Floyd Mayweather Jr, he is the exact opposite of Manny Pacquiao- brash, conceited, out spoken, vulgar, egotistical, contradictory, and narcissistic. And to add, the level of hypocrisy Floyd demonstrates continues to amaze The Superstar.
Recently, Oscar De La Hoya was describing Floyd Jr's last fights to his young impressionable fighter, current WBC welterweight champion Victor Ortiz. Clearly making his point Floyd has not fought a prime fighter since Diego Corrales, and Jose Luis Castillo. Since then, The Golden Boy was telling Victor, Floyd fought out of prime fighters and also smaller fighters. According to Oscar, Floyd fought small Hatton and Marquez. Also Mosley and himself as out of their prime, too old. However, The Superstar remembers when Oscar was saying Juan Manuel Marquez will beat Floyd, but The Superstar will chalk that too gamesmanship and promotion. But Oscar kept it under the "boxing" umbrella, staying out of personal issues. While Floyd Jr seems to have no boundaries, willing to go on a personal level. Here is an example on how low and cold-hearted Floyd Jr can be. On a recent interview, Floyd commented on Oscar and his recent problems outside the ring.
"De La Hoya is a drug user, dresses in drag, committed adultery and drinks alcohol and Ortiz looks up to this guy," (Source)
"Was Oscar in rehab when he said that?" Mayweather asked, taking a jab at De La Hoya's recent stint in a drug and alcohol rehabilitation center. "Was he coked out when he said it? Was he drinking alcohol when he said it? Tell me what he was doing, because we know what he did." (Source)
And lets add the infamous blow up on HBO 24 7 where Floyd Jr took a pot low blow shot at his father, Floyd Senior's time in prison. And putting a big exclamation calling his father a "FA**OT" (derogatory slur for gays). What kind of person will call his father that kind of slur on national TV? The Superstar will remind Floyd Jr, who was the idiot caught burning a $100 bill? What kind of person is this? The Superstar knows that kind of person. The kind of person who is self centered, and a person who lacks the quality you would hope your children will never want to treat their parents. A cold-hearted insensitive narcissistic jerk.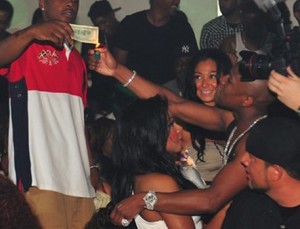 When we talk about hypocrisy and contradictions, Floyd Jr is the master. Pound for Pound best in that category. If we look at Oscar's recent problems and track record. And then compare it to Floyd Jr, Floyd Jr wins hands down as the worst track record. The Superstar will point out Floyd Jr's piss poor track record but also his criminal record. Oscar's current admission to his personal problems from cocaine, alcohol, infidelity, and also the most shocking, thoughts of suicide. At least Oscar De La Hoya is seeking help and also as important to show those who are high profile celebrities that they are not alone when they are battling their inner demons. Oscar made it clear by making it public that there is help for those who are battling their inner demons. But you can count on Floyd Jr to blow and cast dark clouds towards Oscar personal issues instead of biting his tongue or offer some moral support. Instead, Floyd Jr will use Oscar's personal problems as a way to promote himself, saying why would Victor Ortiz look up to him and insinuating he is a better role model than Oscar De La Hoya. Why should Victor look up to a woman beater? As far as The Superstar knows, Oscar does not have any pending cases of assault. Or has a history of domestic abuse/violence. Oscar did not have to attend anger management classes like Floyd had too back in 2004. And we have never heard Oscar call his own father, a "FA**OT" on national TV. If Oscar was not promoting this fight with Floyd Jr and Victor, maybe Oscar would have retaliated by making public and touching on Floyd Jr's personal issues. Ranging from having children without the sanctity of wedlock. Or Floyd Jr recent run in with the law. His pending court cases. Or bringing up Floyd Jr's past problems. Floyd Jr says he speaks what's on his mind, and holds no boundaries. The Superstar believes someone should do the same to Floyd Jr and the last time Floyd Jr had a taste of his own medicine was his infamous interview with RA The Rugged Man. RA gave it too Floyd Jr like no one has ever before. It clearly shook, flustered Floyd Jr and in the end, Floyd Jr was stammering and stuttering, which emphasized how flustered when Floyd Jr faced someone who has a high boxing history IQ and speaks in "the streets". Floyd Jr tapped out because he couldn't run roughshod over the Rugged Man like he does to others. Take the gloves off.Oscar, and give it Floyd Jr. He needs a taste of his own medicine.
Got an Opinion? Submit Your Articles and Press Releases to be posted on NowBoxing.com
*Please refrain from leaving any Racist, Profane or Derogatory comments*