One of the sport of Boxing's true characters, former British and European Bantamweight Champion, Ian 'Dappa' Napa is the latest star to sign up for the TRAD TKO Boxing Gym organised 3rd Annual Boxers & Celebrities Charity Football Tournament, which takes place at the Concord Rangers FC stadium in Canvey Island on Sunday 12th August.
During his magnificent thirteen year pro career Ian fought in no less than fifteen Championship bouts and virtually dominated the domestic and European scene between June 2007, after beating Jason Booth to become British Champ, and March 2009, when he lost the coveted European crown to Malik Bouziane.
That wasn't the end of his Championship career though, as in October 2009 Ian successfully regained the British title, with a close victory over Gary Davies. He then went on to unsuccessfully defend his crown, and challenge for the vacant Commonwealth strap against Jamie McDonnell.
Ian had one final shot at Championship glory in June 2010, when he faced Stuey Hall for the British title vacated by Jamie McDonnell. Unfortunately Ian was forced to retire in the corner in the eighth, after suffering from heat exhaustion.
Ian had just one more fight, at Super Bantamweight against Martin Ward, before calling it a day. Today Ian is still involved in the sport, happily giving his time mentoring and coaching youngsters in East London.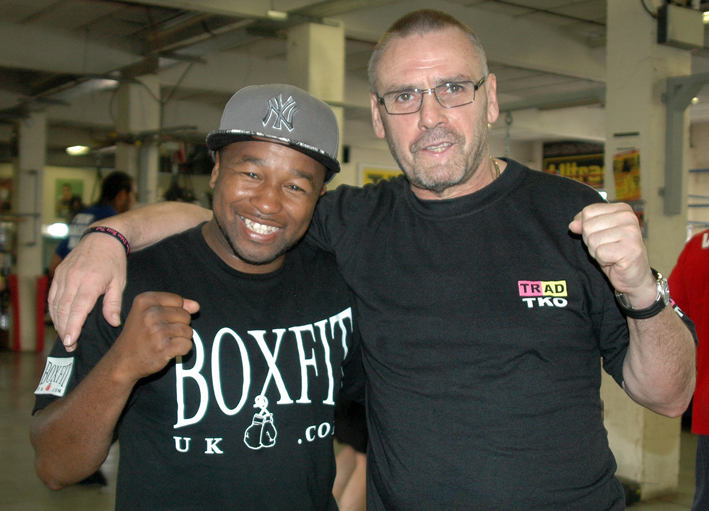 Following his giving a pads session to English Light Middleweight Champion Erick 'The Eagle' Ochieng, at the TRAD TKO Boxing Gym in Canning Town, Ian spoke briefly on his upcoming Indee Rose tournament debut, "Yeah, I'm taking part in the Indee Rose Football Tournament this year, it's all for a really good cause.
It's something that I really want to do, I get to play football, meet up with all the boxers again and spend time with the fans. Most importantly though we will raise a lot a money for kids who are suffering from brain and spinal tumours.
I'm not sure which team I'm in yet, or been allocated a position whatsoever, but it doesn't matter as I'll play anywhere, winger, forward, whatever. Although don't expect me to get any headers.
It's gonna be a great day for everyone, can't wait."
This year's TRAD TKO Boxing Gym organised Boxers and Celebrities Football Tournament, in aid of the Indee Rose Trust, kicks off at 12:00pm at the Concord Rangers FC, Thames Road, Canvey Island, Essex on Sunday 12th August 2012.
Tickets for this very special event, priced: Standard: £10.00 and V.I.P. £20.00, are available on-line from www.tkoboxoffice.com or in person from the TRAD TKO Boxing Gym, Gillian House, Stephenson Street, Canning Town, London E16 4SA
Children's tickets, priced £5.00, will be available on the day.
For further information either call the TRAD TKO Boxing Gym on 020 7474 3199 or see www.indeerosetrust.org – www.tkoboxinggym.com or facebook.com/theindeerosetrust