For the past three years TRAD TKO supremo and his team have organized an annual Boxers and Celebrities Charity Football Tournament, in aid of the Indee Rose Trust, in doing so have raised in excess of £60,000 for the charity.
No surprise really that this level of funding was raised, as literally a Who's Who of Boxing – Ricky Hatton, David Haye, Nathan Cleverly, Barry McGuigan, Ricky Burns, Tony Oakey, Kevin Mitchell, Rendall Munroe, Paul, Steven, Liam and Callum Smith to name just a few – turned out in force each year, not just to play but also to spend time with the fans.
Back in September this year Francis and George Warren invited Johnny to make a collection, on behalf of the Indee Rose Trust, at their Queensberry Promotions BoxAcademy event.
At the time Francis said, "Over the years Johnny has done a fantastic job with the football tournament, so much so that the Indee Rose Trust and Boxing have become intrinsically linked."
Following the success of this initiative at the BoxAcademy event, Francis has once again invited Johnny and the Indee Rose Trust team to make a collection at the upcoming Frank Warren promoted Junior Witter versus Frankie Gavin British Title fight, at York Hall on Thursday 1st November.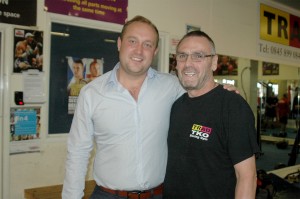 Following making the generous gesture Francis said, "As I've said before I'm really impressed with the work that Johnny does for the Indee Rose Trust, and really wanted to cross it over from a football event to boxing events with Queensberry Promotions and Frank Warren Promotions."
Johnny then responded, " It's really great news, Francis came into the gym today and invited us to make a collection at the Junior Witter-Frankie Gavin event at York Hall on November 1st.
It's opportunities like this that can make such a difference, every penny raised goes to helping kids suffering from brain and spinal tumours.
Indee Rose's parents, Russell and Jane, put together fantastic 'Treasure Boxes' for the kids when they are in hospital, they also provide grants for the families of the kids, to take some of the financial strain away.
Indee Rose Trust's work doesn't end there, when the kids are on their way to recovery, there's the Indee Rose Trust holiday home, which is for the whole family during recuperation.
All of this doesn't come cheap, and all I can say is a big thank you to Francis, George and Frank for this fantastic opportunity to raise more funds for the Indee Rose Trust.
We did quite well last time and we're all looking forward to doing it again on the 1st."
Tickets, priced £35 and £60, for Junior Witter versus Frankie Gavin, for the British Welterweight title, are available now at www.tkoboxoffice.com
For further information on, or donations to, the Indee Rose Trust please go to www.indeerosetrust.org