The current WBO welterweight champion Jeff Horn and his team didn't get the rematch with Manny Pacquiao, so they settled for an unknown fighter from England named Gary Corcoran for their first title defense.
This fight will take place in Australia, Horn's home turf and that leaves little chance for the British fighter to win, he will face the same hometown cooking Manny Pacquiao faced when he beat Horn but lost the fight via judges scorecards aka robbery.
Corcoran will likely need a knockout to win because even if he outboxes Horn he won't get the decision.
Team Horn has grown very cocky since they were able to get a gift decision over a smaller aging Manny Pacquiao. They are acting like they are the big dogs even calling out Floyd Mayweather Jr. after the fight.
The one condition though, Mayweather must fight in Australia or else no fight, because that seems to be the only way you can fight Horn these days, if you want a shot at the WBO strap you must go to his backyard, he won't go to your neck of the woods.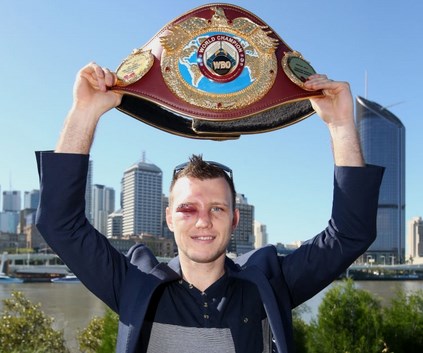 Recently, Horn's promoter Dean Lonergan got mad at WBA/WBC welterweight champion Keith Thurman when he said nobody cares about Horn. Lonergan said if Thurman wants to unify he has to come to Brisbane and he will face the same fat that Manny Pacquiao did when he fought Horn. Basically, Thurman will get robbed just like Manny.
If I were any of these top undefeated welterweight champions from America like Keith Thurman or Errol Spence I wouldn't even risk having my belt get taken unjustly fighting there. The unification should happen stateside or no fight. Horn will just hold that belt hostage and stay at home to milk it with easy title defenses as he waits for Pacquiao to age even more and rematch him to hopefully get a decisive victory over the Filipino legend.
Another American fighter who is unbeaten but fights at a division below is Terence Crawford the current undisputed light welterweight champion of the world, he is promoted by Bob Arum who also co-promotes Jeff Horn, both fighters were linked together as a possible clash for the future if Pacquiao doesn't exercise his rematch clause with Horn.
Crawford, Thurman and Spence all have the tools to whoop Horn, but they must not give into the Australian fighter's demands. If Horn wants to be great he has to do what Manny Pacquiao did and go over to the USA and fight the best fighters in the world and really prove yourself without having the hometown crowd or the judges on your side.