We can all reminisce about of the days of old, like when Manny "Pacman" Pacquiao exploded into the mainstream he was a well conditioned machine ready to go at any time.
His impressive rise in weight could be attributed to strength and conditioning guru Alex Ariza the man who helped sculpt and transform Pacquiao from a featherweight to a full-fledged welterweight going toe to toe with bigger men.
The pair struck up an instant connection when Ariza was hired by Freddie Roach at the Wild Card Boxing Club to handle his star pupils conditioning program after Justin Fortune left to start his own gym.
The first test was moving up to 135 pounds, Pacquiao already had trouble making the 130 pound limit so he decided to move up to lightweight and face the WBC lightweight champion David Diaz.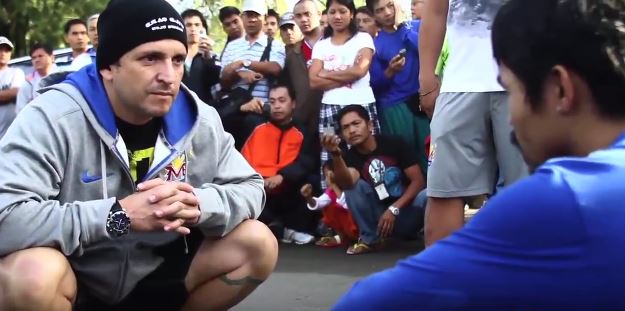 Ariza made the biggest impression on the boxing world when he had the tough task of bringing Pacquiao up in weight to face Oscar De La Hoya at the welterweight limit of 147-pounds which is two weight divisions up from where he last fought.
The De La Hoya fight was the moment it all changed for Ariza and his name was on the map. As far as the falling out is concerned, I believe Freddie Roach was the main issue here, he got mad when people were crediting Ariza for Manny's successful climb in weight instead of him.
Roach and Ariza were a superstar team, they had each others backs, they prepared Manny to beat De La Hoya, Ricky Hatton, Miguel Cotto, Joshua Clottey, Sugar Shane Mosley, Antonio Margarito, and Juan Manuel Marquez.
Then the relationship got sour as Manny started getting closer to Ariza and becoming good friends with him, Roach got jealous.
Pacquiao fired Ariza out of loyalty to Roach. From then on it has gone downhill for Filipino ring legend.
Pacquiao was still able to win some but he lost his biggest fight against Floyd Mayweather Jr. and who was in Floyd's corner that night none other than Alex Ariza.
Nobody should blame Ariza for working the corner of Brandon Rios or Floyd Mayweather Jr. when they fought Pacquiao, as Ariza put it, "You think I would have ever left him? I would never have left him but I have to pay the bills too."
Now that Mayweather retired and Freddie Roach is rumored to be gone from team Pacman, I suggest that Manny bring back Ariza to the team and get him back into peak physical form. Ariza still speaks fondly of his old boss and believes even at his age if he trains properly and eats right he could still compete at the highest level.