Amir Khan and Manny Pacquiao are two of the greatest ambassadors of the sport of boxing. They are two gentleman who do a lot of charity work and always give a professional interview, and not to mention great warriors inside and outside of the ring.
We all know the greatest ambassador of the sport is the late Muhammad Ali, a true man of faith and the people. Ali was not a selfish man, he fought for the honor and respect, but to help the civil rights movement for black people and for Muslims all over the world.
Boxing is the sport that will show a man who he really is, the brutality is something that will either make you or break you. Only special men can become fighters, and those who cannot make it go on to do something else, not everyone's calling is to be a fighter.
When you deal with boxing, the public has a negative stigma attach to it, they automatically assume these are no good criminals who will punch them if they say something they don't like.
That image is false, most of the fighters I have encountered when I trained in boxing as a teen were all upstanding individuals. All of the trash talking and bravado is just to sell the fight, but these men release a lot of tension in training and in the ring, and they are taught discipline and respect.
You will find more angry and violent men who are regular every day white and blue collar workers, many of them are bottled up with hate, they have no release or spirituality so they will get angry driving from work and participate in Road Rage or even take it out on their family in an abusive manner.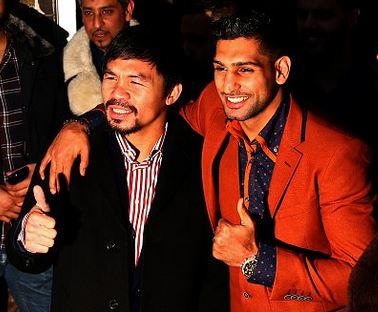 Most boxers are very calm and respectful, they don't attack or fight like bullies because boxing is a noble sport and fighters are taught to only fight in the ring. Amir Khan and Manny Pacquiao two of the biggest global icons in the sport actually defend the little guy, and are against the bullying going on in the world today.
Both men of God, one is a devout Muslim the other a Christian family man and politician, neither are perfect and that is what they will tell you, they make mistakes and sin like every man, but they will own up to their sins and set an example to those struggling with sins.
They trained together for several years alongside Freddie Roach at the famous Wild Card Boxing gym in Hollywood, California and are rumored to be possible opponents for December of 2018, it will be a struggle for me since I am a fan of both and always root for them. If the fight happens it will be a true class fight between two upstanding sportsmen.
If Khan vs. Pacquiao happens I will remove myself from any emotions and look at it as a sporting event between two of my favorite fighters and the positive saying is may the best man win.
Peace be to all of those boxing fans and positive ambassadors of the sport.
Muki is a long time boxing fan and enjoys Mixed Martial Arts. He has been writing boxing articles since he was a teen and his favorite fighters of the past are Muhammad Ali, Mike Tyson, Prince Naseem Hamed. Favorite MMA fighters are Khabib Nurmagomedov, Georges St-Pierre, Anderson Silva and Fedor Emelianenko.